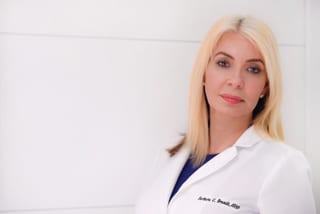 An Advanced Registered Nurse Practitioner, Barbara Brandt earned her MS in Nursing from Barry University, a private college located in Miami Shores. During graduate training, she served at the internationally-renowned Ryder Trauma Center at Jackson Memorial Hospital as a certified trauma and burn ICU nurse.
Prior to beginning her career in nursing, Barbara worked as a Registered Dental Hygienist. In this position, she achieved broad training in facial anatomy, soft tissue management, and advanced periodontal procedures. Barbara's immense appreciation for aesthetics and art led her to transition from dentistry into nursing, with the intention of becoming an Aesthetic Nurse Practitioner. In her personal life, Barbara is proud of several notable accomplishments, including her careers as a professional Middle Eastern dancer, now retired, and a certified fitness trainer.
Her multifaceted background in the medical, dental, fitness, and artistic fields has helped Barbara to develop an acute sense about how to enhance natural beauty and soften visible signs of aging on the face and body. In addition to working alongside some of the most accomplished plastic surgeons in South Florida, Barbara has earned advanced certifications in a number of cosmetic treatments, including:
Neuromodulators, including BOTOX® Cosmetic, Dysport®, and Xeomin®
Dermal fillers, including JUVÉDERM®, Restylane®, Radiesse®, and Bellafill®
Collagen-stimulating injections, such as Sculptra® Aesthetic
Ultherapy®
PRP (platelet-rich-plasma)
Sclerotherapy
Barbara is also an active member of several esteemed medical organizations, including The Nurse Practitioner Council of Miami-Dade and the International Academy of Facial Aesthetics (IAFA). Emphasizing a patient-focused approach, Barbara is known as an honest, transparent, and compassionate patient advocate who offers unparalleled care from initial consultation to final result.
"Although I develop customized treatments for my patients, my approach is centered in patient education, involvement, and approval of every step of my procedures; after all who's the one looking in the mirror every day?"
Barbara is dedicated to her work and is a firm believer in the transformative power of cosmetic treatment. She emphasizes quality over quantity, taking the position that an exceptional outcome takes precedence over the number of patients seen or procedures performed. Her greatest satisfaction is assisting her patients in feeling more beautiful, youthful, and confident than before. "Nothing is more fulfilling than seeing the joy, happiness, and smiles when my patients see their results."