Augmentation Mastopexy – Miami Breast Enhancement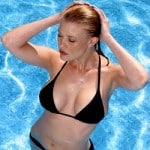 Looking for a way to rejuvenate your breasts and reverse sagging while also adding breast volume? Don't settle for a lift or augmentation alone – get both with an augmentation mastopexy.
For your augmentation mastopexy, the first step will be breast augmentation with implants. The implants will be inserted into the breast tissue pockets that have been created. After the implantation, the breast lift, or mastopexy, will be performed, removing excess skin tissue to tighten the area. The nipple may be repositioned to better fit the breast's new proportions.
Augmentation mastopexy is the perfect way to revitalize and enhance the breasts, so contact our office today for a consultation. Board-certified plastic surgeon Dr. Moises Salama, a skilled medical professional, will be available to explain more about the operation.