What's the difference between Butt Implants and a Brazilian Butt Lift?
Both Buttock Implants and a Brazilian Butt Lift have a similar purpose—to modify the shape of the buttocks and to improve the overall proportions and appearance of this area. Brazilian Butt Lift achieves this goal with the use of Liposuction and Fat Transfer. Excess fatty tissue from one or more regions of the body, such as the abdomen, flanks, back, and thighs, is harvested and repurposed to enhance the volume and contour of the buttocks. In Butt Augmentation, implants can also be used. These implants are similar to the type placed in Breast Augmentation; however, they are made from soft solid silicone rather than fluid-filled silicone. Each procedure has benefits, and the right approach for your desired outcome and unique anatomical needs will be determined during your initial consultation. In some cases, both techniques can be combined to obtain more comprehensive butt enhancement.
Who is a good candidate for Butt Implants?
Ideal candidates for Buttock Implants will be in good general health. Additionally, they should have a firm understanding of what to expect from the outcome. Dr. Salama will discuss your aesthetic goals during the initial consultation, and evaluate your areas of concern, to develop a treatment plan tailored to optimize your results. Patients who are dissatisfied with the shape, proportion, or size of their buttocks may benefit from this procedure.
What are the benefits of Butt Implants?
Butt Implants offer a dramatic improvement in the volume, shape, and contour of the bottom that is noticeable immediately after surgery. Other benefits of this treatment include:
A more curvaceous backside
Long-lasting, potentially permanent outcome typically unaffected by the patient's lifestyle
Effective option for patients with insufficient fatty tissue
Buttock Implants are often the preferred choice for fitness and sports enthusiasts with minimal fatty tissue. While it's often possible to gain weight and use that fatty tissue for a Brazilian Butt Lift, the patient's active lifestyle may lead to fat loss in the area over time—something to consider when making your final decision. Additionally, a natural-looking result can be achieved with either augmentation method, and the right approach for you will depend on your needs, goals, and lifestyle.
What is the Butt Implant treatment experience like?
An outpatient procedure, Buttock Augmentation is performed in a hospital or accredited surgical facility under general anesthesia. After the one-to-three hour operation, you should be able to return home the same day. Beforehand, Dr. Salama will discuss with you the implant size and shape, as well as incision type and implant placement location. In most cases, a two- to three-inch incision will be made near the tailbone through which the implants will be inserted and placed, usually underneath each gluteus muscle. Bandages will be applied and compression garments will likely need to be worn for a short period. Dr. Salama will provide these and other details, as well as pre- and post-operative instructions, at your initial consultatio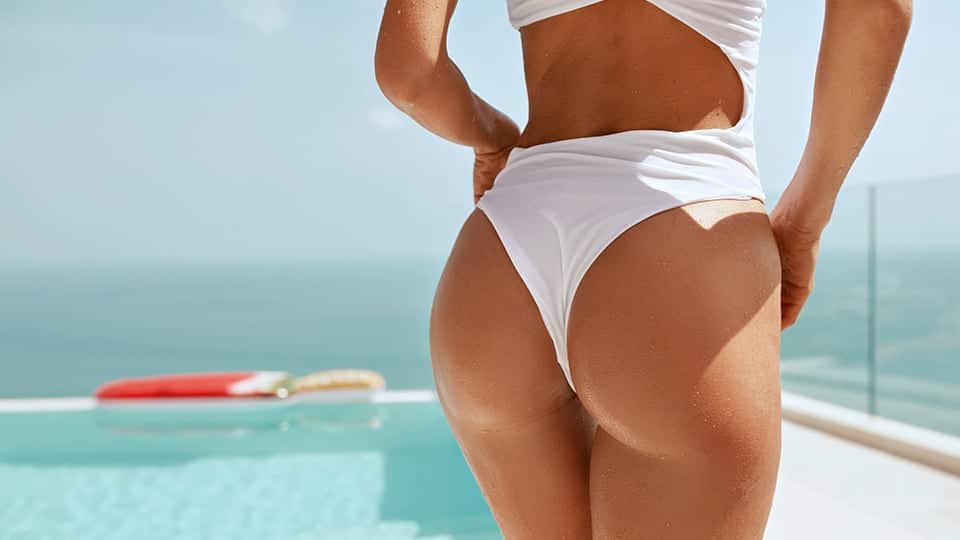 How long will it take for me to heal after getting Butt Implants?
We encourage you to go home and relax for about 10-12 days or so before returning to work and normal activities. You should refrain from practicing sports and participating in strenuous exercise for about four weeks or until Dr. Salama suggests it's safe to continue. Dressings will be removed approximately two-to-three days following the procedure, after which you should be able to bathe and move around relatively normally. Swelling, bruising, and tenderness in the buttock area is normal and should fade with time. We will provide prescription medication initially to minimize discomfort and make your healing process as pleasant as possible. It can take up to six-to-eight months for your results to "feel" like a natural part of you, although the benefits should be visible before this point. Of course, every individual recovers at a different rate and your experience may vary.
How much do Butt Implants cost?
The cost of Butt Augmentation will vary depending on the techniques used, including the type of implants and whether fat grafting is utilized to enhance the result. It's important to note that there are several fees associated with plastic surgery procedures and the total cost will include the surgeon's fee, hospital or surgery center fee, and anesthesiology fee. We recommend asking what a quote includes when comparing estimates from different surgeons. It is our practice to provide a full breakdown of the associated expenses during your initial consultation to help you make the best decision for your needs and goals.
Our friendly and knowledgeable medical team can provide additional information and answer your questions. Contact us today to schedule a consultation with Dr. Salama.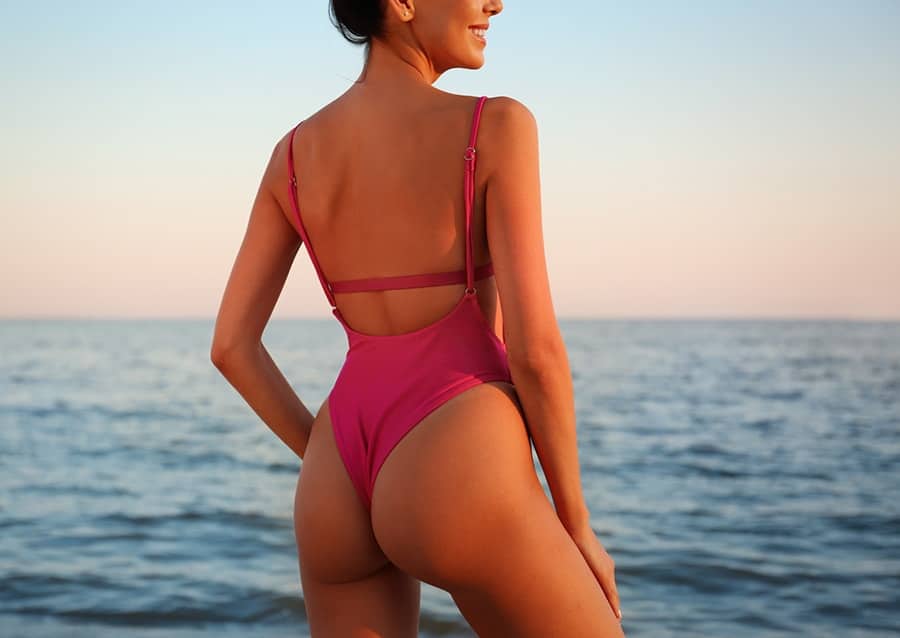 Frequently Asked Questions
About About Buttock Implants
What is the difference between butt implants and a Brazilian butt lift?

Butt implants augment the buttocks through the placement of artificial silicone implants into the buttocks, while with a Brazilian butt lift excess fat is removed from other areas of the body via liposuction then placed into the buttocks for enhancement.

Can butt implants be combined with other procedures?

Buttock implants can be combined with other procedures depending on your health and surgeon recommendation.

When will I see the final results?

You should be able to see final results after at least six weeks. However, everyone is unique and recovers at their own rate

How soon after butt implant surgery can I sit?

After undergoing butt implant surgery, you should not sit for at least 4 weeks.