What are the benefits of a Body Lift?
A Body Lift Miami is a multi-modality procedure in which excess loose skin is removed to achieve a firmer, smoother, and more toned appearance. Since each patient's needs and goals are unique, Dr. Salama customizes the treatment to best optimize the individual's outcome. If you suffer from excess skin as a result of weight loss, pregnancy, or another concern, a Body Lift may be able to help you eliminate the unwanted tissue with beautiful, natural-looking results.
What type of patient benefits from a Body Lift?
Patients considering a Body Lift should be in good general health and understand what can be accomplished with the procedure. Additionally, you should want to remove the excess skin that has developed on the upper body, lower body, or both. During your initial consultation, Dr. Salama will discuss the expected result with you and determine the best course of action based on your anatomical characteristics, medical history, and desired outcome. If you are a smoker, you will have to cease the habit several weeks before and after the operation. If you need help to stop smoking, our skilled medical team can provide information on how to limit tobacco usage.
It's important to note, Body Lift surgery is not designed to reduce a significant amount of fatty tissue. If you are still in the process of losing weight, it may be helpful to hold off on your surgery until you've reached or nearly reached your goal weight. Liposuction can be added to a treatment plan in many cases if needed, but this modality is best used for relatively small to medium pockets of fat rather than as an additional weight loss method. Speak with Dr. Salama to learn more.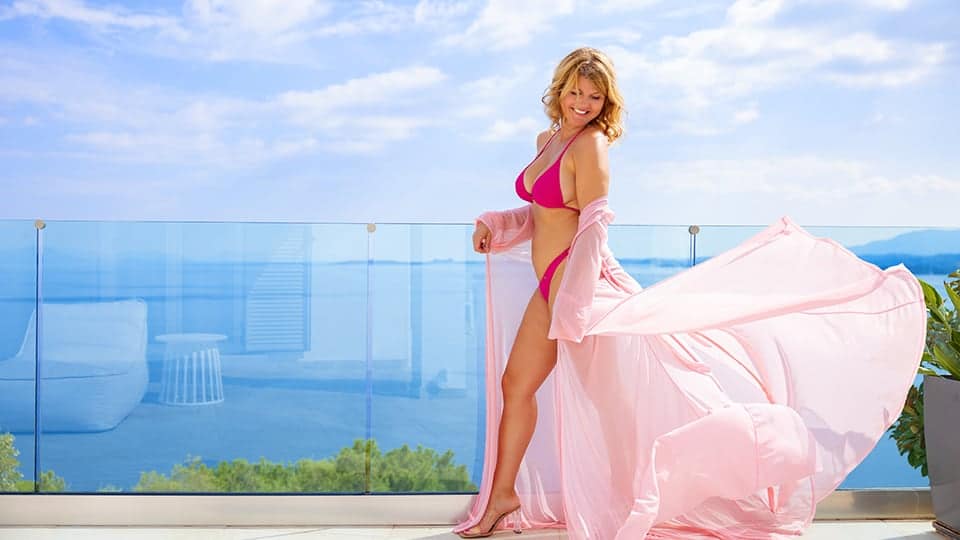 What procedures can be included in this treatment?
As a customizable procedure, Body Lift surgery can be tailored to your singular interests and requirements. Some of the most common techniques used include:
Circumferential Tummy Tuck
Breast Lift (Mastopexy)
Arm Lift (Brachioplasty)
Thigh Lift
What is a Circumferential Tummy Tuck?
Also known as a Circumferential Tummy Tuck, a Body Lift is a type of extended Abdominoplasty. This means that the excess skin located on the midsection, or abdomen, is removed to create a flatter, smoother, and more toned appearance in this area. In a traditional Tummy Tuck, the incision is made from hip to hip. In a Body Lift, the incision is extended beyond the hip and goes around the entire circumference of your lower midsection. This allows Dr. Salama to address excess skin on the sides and back areas in addition to the front. Every treatment plan is customized and the right approach for you will depend on several factors. Dr. Salama will review your options during your initial consultation. Together, you and he will decide the ideal treatment plan for your needs and expressed goals.
What is the procedure like?
Body Lift surgery is a little bit different for each person and, as a result, the procedure experience can be distinct for everyone. Your process will depend on the techniques utilized in your treatment plan. Some individuals may be able to return home the same day as the operation, while others may be asked to spend the night in the hospital. Our experienced plastic surgeon will go over all the details prior to the operation.
How long will recovery last?
Every patient heals at a unique rate and your experience will depend on your individual response to recovery. Downtime can range from about a week to over three weeks depending on various factors. We encourage you to take the necessary time to heal fully and completely to ensure the best possible outcome. We will provide detailed post-surgery instructions on how to care for bandages, compression garments, drains, and any other dressings. While some discomfort should be expected, we will provide prescription medication to minimize pain. Strenuous activity should be limited for at least the first month or for as long as Dr. Salama recommends.
How much does a Body Lift cost?
The cost of Body Lift surgery will range depending on several factors. The total expense will include the plastic surgeon's fee, the hospital or facility fee, and the anesthesiology fee. Please note, many practices provide only the surgeon's fee when offering a quote. It is our belief that the more information a patient has the better off he or she will be, so we will offer a full breakdown of the costs associated with your surgery at your initial meeting. Body Lift surgery is considered an elective operation and typically will not be covered by medical insurance; however, we offer a range of financing options, such as CareCredit< and United Medical Credit, to help bring the cost of the procedure into your budget should you desire it.
If you would like to learn more about Body Lift surgery and its benefits, or if you would like to schedule a consultation with Dr. Salama, please contact our practice today.