What are the benefits of a Breast Lift?
Breast tissue can begin to lose elasticity over time or as a result of other influences. This can cause many changes, including loss of volume, sagging, and other cosmetic concerns. Breast Lift surgery, medically referred to as Mastopexy, is designed to eliminate excess skin on the breasts and elevate the tissues to a younger-looking, more aesthetically appealing location on the chest. Additionally, this procedure can give breasts a firmer look and fuller appearance. To review, Breast Lift surgery can:
Reduce excess skin
Elevate breast tissue to a higher, more youthful-looking position
Enhance symmetry
Modify nipple and areola size and shape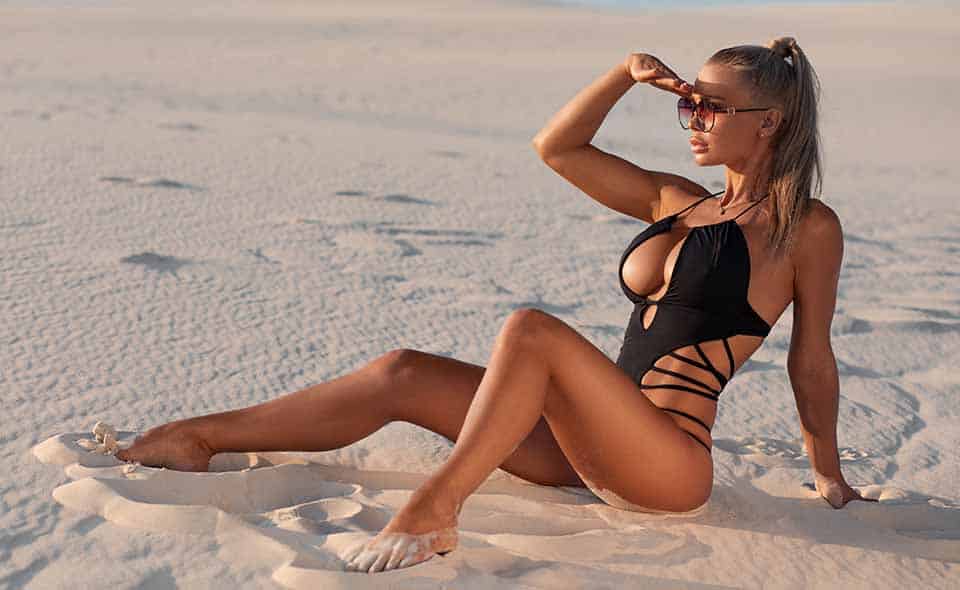 What are the different Breast Lift techniques?
Several techniques can be used to complete Breast Lift surgery, and the right approach for your desired outcome and anatomical needs will be determined during your initial consultation with Dr. Salama. Most mastopexy procedures are performed using one of the following methods:
Periareolar Lift: Also sometimes called a "donut" mastopexy, the periareolar lift uses an incision made around the circumference of the areola (the pigmented area around the nipple). This is the most conservative Breast Lift option, and it is often appropriate for women who require only a small amount of lift to achieve their goals. With this technique the areola can be reduced in size as well.
Vertical Lift: Often referred to as the "lollipop" Breast Lift, a vertical lift uses the same circumferential incision as the periareolar lift as well as an additional incision from the areola vertically down to the inframammary fold. The inframammary fold is where the breast tissue meets the chest. This additional incision allows Dr. Salama to more effectively address excess skin and reshape the breast to achieve a firmer, fuller, and "perkier" outcome.
Inferior Pedicle Lift: This procedure is also known as the "anchor" approach. The first two incisions mirror those of the vertical lift, with a third incision created along the inframammary fold. This technique is often used with breasts that have significant ptosis, as it allows for the greatest amount of excess skin removal. The nipple and areola are also moved higher to obtain the most aesthetically pleasing outcome possible. This is the most common technique used.
Donut
Lollipop
Anchor
Why is one technique preferable to another?
One technique is not necessarily better than another, but one approach will likely be recommended as the best course of action for you. Each one offers unique benefits for the right patient. Dr. Salama will utilize the least invasive method that can optimize your results. If you have moderate droop, for instance, you probably will not need the anchor technique and instead may have a vertical lift, which has fewer incisions. However, if an anchor lift is recommended, you may not necessarily get the ideal results if you instead opt for the vertical lift. Dr. Salama will explain the options fully at your initial meeting and help you develop the appropriate treatment plan for your cosmetic goals and anatomic needs.
Are breast implants necessary?
Lots of women receive Breast Lift surgery without breast implants, and they are by no means an integral part of the procedure. Many patients, however, wish to increase the size of their breasts, as well as enhance their volume and fullness. Mastopexy can sometimes reduce the size of the breasts, and breast implants are often used to mediate that issue or even further enlarge the breasts. Breast Augmentation with Mastopexy (BAM) is a popular option. If you would like to discuss this option with Dr. Salama, you are encouraged to share your questions and concerns at your initial visit.
What should I expect during the procedure?
An outpatient procedure, Breast Lift surgery usually takes between one and two hours to perform, although the unique details of your treatment plan may modify this time frame. General anesthesia is used, and you should be able to return home the same day. You will be asked to complete a few pre-operative instructions prior to your operation, and there will be several post-operative instructions to follow as well. These are designed to help you have the best and safest experience possible.
How long will recovery take?
If you are having Breast Lift surgery as a single procedure (as opposed to part of a multi-procedure operation), you should expect to take at least a week or two off from work and normal activity, including school and common household duties. Some discomfort is normal, and we will provide medication to manage your pain. Swelling, tenderness, and bruising in the treated area is to be expected and will subside with time. Your home care instructions will include how to manage bandages and other important information. You should avoid strenuous exercise and recreation for at least four-to-six weeks. Swelling may continue for many months and up to a year or more, but the majority of inflammation should pass within a few months. After this time, you may not even notice the swelling. You're usually considered to be fully healed after about 12 months. Scars will be very visible at first, but these marks should gradually soften, become smooth, and lose color as time passes.
If you would like more information on Breast Lift surgery and how it can help you achieve your goals, or if you would like to schedule a consultation with Dr. Salama, please reach out to our team today.
Frequently Asked Questions
Breast Lift vs Breast Augmentation, which is needed?

Mastopexy will lift and tighten the breasts, while a Breast Augmentation is designed to enlarge them. The two procedures can be combined when necessary. Depending on your goals, Dr. Salama will recommend the procedure that best suits your desired outcome.

Can a Breast Lift and a Breast Augmentation be done in the same surgery?

Yes, a Breast Lift and Breast Augmentation can be combined, often referred to as a Breast Lift with Implants or Breast Augmentation Mastopexy BAM, and is frequently performed at our practice.

Is breastfeeding possible after a Breast Lift?

It is possible to breastfeed after a Mastopexy; however, it is not guaranteed.

Should I wait and have my Breast Lift after pregnancy?

Since pregnancy can affect a woman's breasts, Dr. Salama typically recommends to wait. That said, there are no contraindications to breast enhancement before pregnancy, you just risk having to undergo revision surgery.

Can an Areola Reduction and a Breast Lift be combined?

During a Breast Lift your areolas are reduced. You can discuss your desired goals regarding this with Dr. Salama during your consultation.