What can a Breast Reduction achieve?
In addition to making breasts smaller, Breast Reduction surgery can also enhance the appearance of this area and give women greater freedom and confidence to live their lives how they want to. Other benefits of a Breast Reduction can include:
Enhanced symmetry
Reduced areola and nipple size
Firmer, higher breasts with less droop
Reduced physical pain caused by the weight of breasts or ill-fitting bras
Improved mental health and self-esteem
Additionally, many women who had difficulty exercising or enjoying recreational activities due to the size of their breasts lose weight after this procedure, as they can finally participate in these pursuits comfortably.
Who is a good candidate for Breast Reduction?
As with any surgical procedure, we recommend patients be in good general health and not smoke. If you are a smoker, you will need to stop this habit for several weeks before and after the operation. Breast Reduction surgery can be an excellent option for women who are bothered by the size of their breasts, feel pain or self-consciousness about the size of their breasts, or feel that their overly large breasts impede upon their well-being in another way. Dr. Salama will discuss your concerns and answer your questions during the initial consultation. From the information gathered during this meeting, he can develop a customized treatment plan that optimizes your result.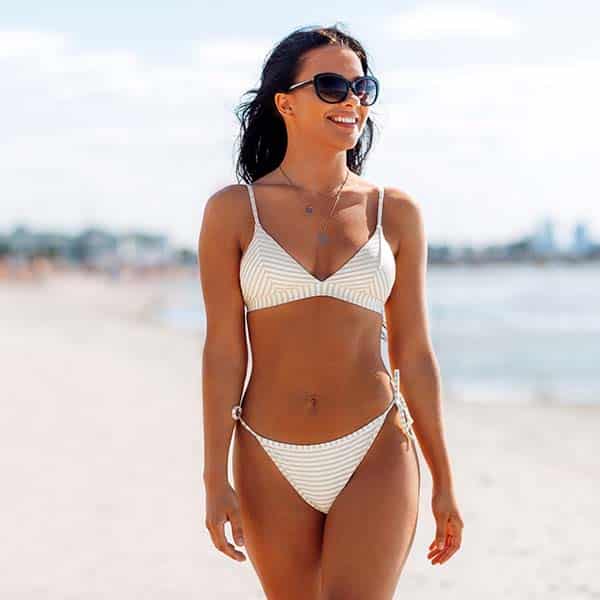 Patient Testimonial: Breast Reduction
What techniques are available for Breast Reduction?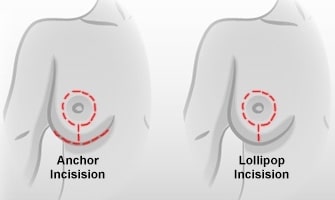 Breast Reduction surgery can be performed using a similar approach as some Breast Lift surgery techniques. Most procedures are completed using either a vertical incision or an "anchor" (inferior pedicle) incision. The vertical incision, also known as a "lollipop" technique, involves a circumferential incision around the areola (outer nipple area) and a second incision that begins at the areola and ends at the inframammary fold, where the breast meets the chest. The anchor incision uses these same two entry points and adds a third along the inframammary fold, creating an anchor-like scar. The scar, while very visible initially, should fade with time. However, it's unlikely to ever disappear completely. Most patients report little concern about the scar's appearance, saying they are just glad to feel good in their body again.
What should I expect during the procedure?
The Breast Reduction Miami is performed as an outpatient procedure and you should be able to go home the same day you have surgery. A Breast Reduction typically takes between two and three hours, although your experience may vary somewhat. We will provide pre- and post-operative instructions to ensure your experience from start to finish is as pleasant and predictable as possible. Dr. Salama can provide additional details as suits your unique treatment plan.
How long will recovery last?
Everyone heals at a unique rate, but most patients take a couple of weeks off from their routine schedule to recover properly and comfortably at home. When you first leave the hospital facility, you will feel some discomfort, but we will help manage your pain with prescription medication. Additionally, you should expect swelling, tenderness, and bruising in the affected area, which will take some time to subside. You will return for several follow-up appointments so we can monitor your progress and ensure that everything is going to plan. We encourage you to avoid strenuous exercise for at least a month, longer in some cases, and to take the time you need to fully heal.
When can I see the final result?
You should begin to see the results of your procedure immediately after the operation, although this will depend on the amount of reduction you received. Swelling will continue for up to a year or more, although the vast majority of it should fade after a few months. Most women do not even notice the residual inflammation after this point. It's commonly accepted that a patient is fully healed after about a year, although they may feel recovered long before this point.
Will insurance cover this procedure?
Depending on your individual policy, medical insurance may cover some, most, or all of the fees associated with Breast Reduction surgery. The amount of support can range considerably and there may be stipulations that need to be honored prior to earning the coverage. Examples can include losing a certain amount of weight or proving a history of medical problems related to heavy, overly large breasts. Unfortunately, we do not accept medical insurance at Elite Plastic Surgery; however, we do offer affordable financing options to help bring the cost of the procedure into your budget.
We understand you may have several questions about Breast Reduction surgery, and we're here to help. Contact our practice today for more information or to schedule a consultation with Dr. Salama.