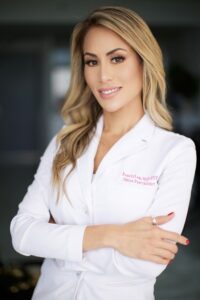 Board-certified advanced registered Nurse Practitioner (ARNP) Beatriz Lam specializes in aesthetic medicine. She is a firm believer in the transformative power of cosmetic treatment and is dedicated to the beauty, health and well-being of her patients. She provides rejuvenating, non-invasive treatments at Elite Aesthetics including BOTOX® Cosmetic Injectables and Dermal Fillers, Kybella, IV Therapy and PDO Thread Lifts.
It is with an intuitive and artistic eye that Beatriz delivers beautiful, natural-looking results. Her passion for aesthetics stems from making sure her patients look and feel their best. Beatriz takes into consideration her patients' skin type, ethnicity, and lifestyle to customize their treatments. Utilizing the latest techniques to highlight their natural beauty, she turns every session into a work of art. Her greatest satisfaction is ensuring her patients feel more beautiful, youthful, and confident than before coming to Elite Aesthetics.
Beatriz places a high emphasis on quality over quantity, taking the position that an exceptional outcome takes precedent over the number of patients seen or procedures performed. This brings comfort to her patients, along with her honest and relaxed demeanor. If patients request an unnecessary service, she educates them on why the service won't work and guides them towards alternatives that can help them achieve the most beautiful and vibrant results possible.
Beatriz has a Masters of Science in Nursing from Barry University and an undergraduate degree from Florida Atlantic University. She is also certified in all the latest dermatological techniques: PDO Thread Lifts, Advance Botulinum Toxin, Dermal Fillers and more.
A nurse since 2008, Beatriz has worked in numerous industry settings from home health care to hospitals. In addition to her prowess in aesthetics, her experience also includes medical/surgical, critical care, step-down, cardiothoracic and vascular surgery.