Millions of men and women in the United States experience hair loss. Whether your hair is thinning, or your hairline is receding, Elite Plastic Surgery can help bring back your locks and confidence with non-surgical and surgical hair loss solutions. We understand the personal, professional and social anxiety that hair loss can cause. Whatever your condition is, we will build a Hair Restoration plan that best suits your needs and goals using the most advanced procedures and treatments in the industry.
Who is a good Medical Hair Restoration candidate?
Most balding individuals, men and women alike, can benefit from Hair Restoration. However, results will vary depending on the individual's hair characteristics. As such, some candidates may experience a more dramatic improvement than others with fewer grafts or treatment. It is important for patients to have realistic expectations regarding their Hair Restoration plan. During your consultation, you will be advised on what you can expect from non-surgical treatments and how much improvement you're likely to see from our Hair Transplant surgery option.
What Non-Surgical Hair Loss Treatment options are available?
What is a Hair Transplant?
Our Hair Transplants are performed through the method of follicular unit excision (FUE), which is an advanced Hair Transplant technique that delivers natural, permanent results. For FUE, the follicles are harvested individually by hand, relocating hair follicles from one location to the area that is thinning or bald. The approach provides a seamless transition, resulting in a look that is natural and undetectable, and as smooth as the original hairline. And the procedure is so versatile, it can be applied not only to scalp hair but to the beard and eyebrows as well.
Hair Transplant Step-by-Step
For the FUE Hair Transplant procedure, we first clean the scalp and numb the back of the head via injections. Then, the donor area, typically the back of the scalp, is shaved and we remove the hair follicles one by one. Since only one out of every few hair follicles is removed, there is no visible scar, and the donor site will look no different than the rest of the hair on the head after healing. Next, the grafts are prepared as the treatment area where the hair will be placed is cleaned and numbed. Here, small incisions with a needle are created to match the previous hair growth pattern. Using an artistic eye, the grafts are delicately placed one-by-one into the incisions where new hair will grow as usual. The placement is meant to complement the patient's natural hairline growth and facial features for optimal results. Depending on the hair loss classification and amount of hair needed, the transplant can consist of several hundred to a few thousand hair grafts. The entire process may take between 4 to 8 hours, depending on the size of your transplant. If hair loss continues or if you desire thicker hair following the transplant, another procedure may be needed.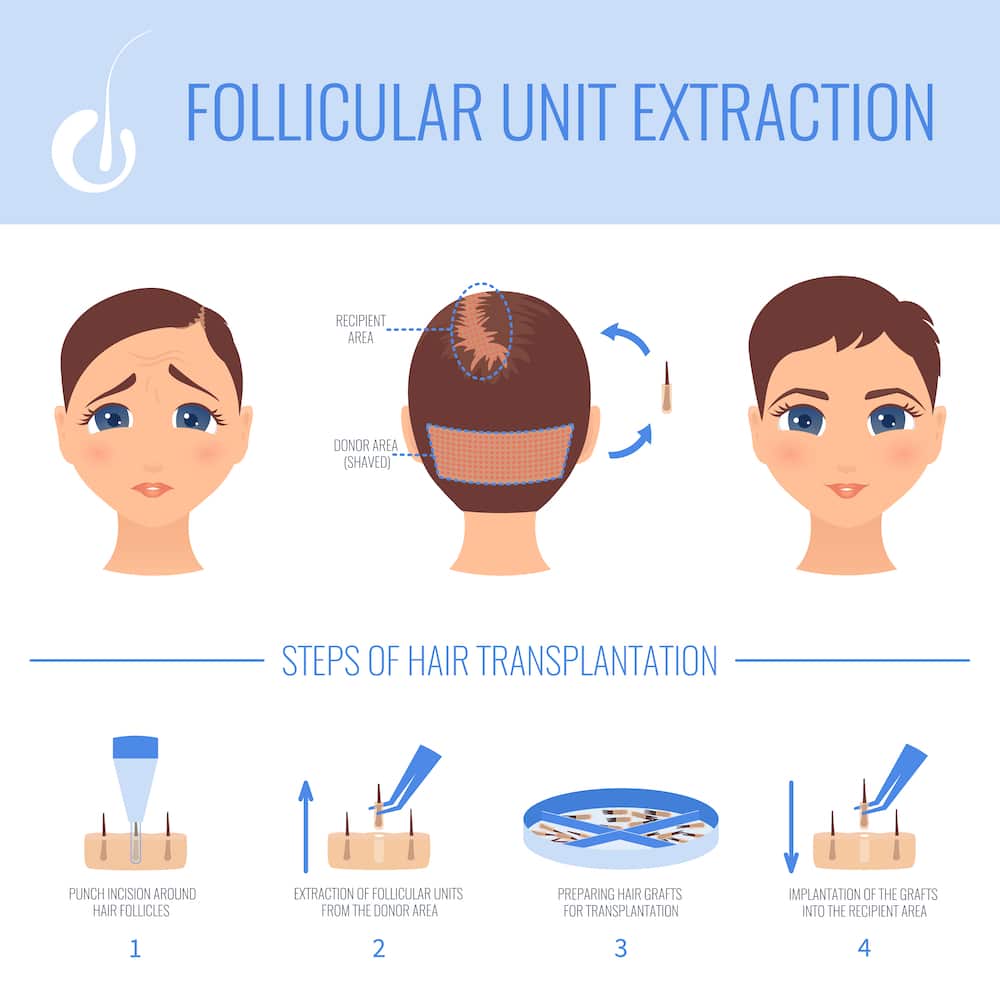 What is Hair Transplant recovery like?
Following Hair Transplant surgery, you will need to wear scalp bandages for a day or two. You can expect a tender scalp and may be prescribed pain medication for a few days, as well as antibiotics and/or an anti-inflammatory medication. Most patients return to work 2 to 5 days after surgery. The transplanted hair falls out within 2 to 3 weeks, and new growth can be noticed within a few months. In 6 to 9 months, you can expect approximately 60% of new hair growth. In addition, a post-surgery Hair Restoration treatment may be recommended to improve transplanted hair growth.
What Should I expect from Hair Transplant results?
Results are unique to each individual. The end result depends on various factors. However, most important are the individual's hair characteristics, such as the amount of donor hair available, the size of the recipient area, and the degree of fullness desired. These three things are critical to the overall goal. Upon consultation, your condition will be evaluated and a Hair Restoration treatment plan that you can most benefit from will be designed for you.
Are there any Hair Transplant risks?
Like any surgery, a Hair Transplant involves some potential risks, including:
Bleeding
Inflammation
Infection
Scarring
Shock Loss (non-permanent loss of the original hair in the recipient area)
Unnatural-looking new hair growth
Poor survival of donor hairs
Make sure to voice any concerns so we can help determine if a Hair Transplant is the best option for you.
How much does Hair Restoration cost?
Non-surgical treatments are a more cost-efficient Hair Restoration option in the short run, ranging anywhere from $500 to $2,000. Hair Transplant surgery pricing mainly depends on the amount of hair you're relocating and can range from $5,000 to $15,000, with typically permanent results. At Elite Plastic Surgery, we provide several medical financing options to help you realize your aesthetic goals, because we understand the importance of not only looking your best but feeling your best.
Let us help you look good and feel happy again. Our professional team is here to make you feel welcome and comfortable through every step of your Hair Restoration process. Contact us today for a consult.