A great alternative to facial plastic surgery, a Liquid Facelift is the minimally-invasive technique of using injectables or dermal fillers (Botox® Cosmetic, Dysport®, JUVÉDERM®, Radiesse®, Restylane®, and others) to lift and contour the face.
What is a Liquid Facelift?
A Liquid Facelift helps reverse the negative signs of aging by restoring facial volume, reducing fine lines and deep wrinkles, and enhancing the look of your skin for a more youthful appearance. Used in combination, the injectables target trouble areas to produce natural-looking results, achieving:    
Lifted facial features
Restored facial volume
Improved facial contour
Reduced lines, creases, wrinkles, or folds
Smoother, more youthful-looking skin
While less invasive and considered safer than traditional Facelifts, Liquid Facelift treatments provide results that are subtler and temporary, requiring maintenance approximately every year or two depending on the combination of products used.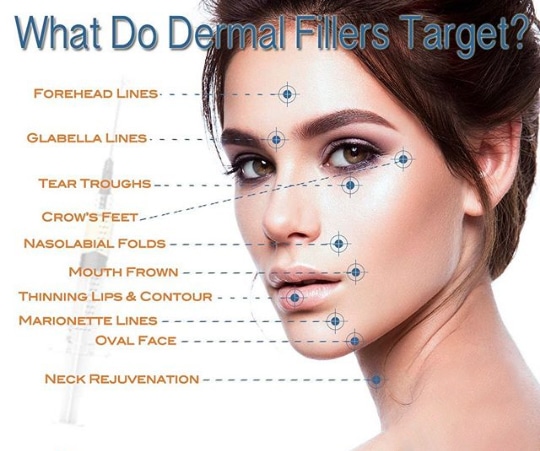 Liquid Facelift Benefits
Procedure is often quick and simple
Little to no pain
No recovery or downtime
Natural-looking results
All fillers used are FDA approved, meaning little risk is involved
Who can benefit from a Liquid Facelift?
You should consider a Liquid Facelift if your goal is to correct fine lines, wrinkles, and other facial issues without having plastic surgery.
What should I expect during a Liquid Facelift?
A unique treatment plan is developed for you during your consultation based on your goals, desired outcome, and what our specialist can realistically achieve for your appearance. The appropriate fillers will be selected for the treatment areas considering the results you want.
During treatment, local anesthesia is used to help you feel more comfortable. The entire procedure is typically under an hour, depending on the number of facial features treated and the amount of product used. Following the procedure, some patients may experience mild swelling. Rare complications include inflection, allergies, and contour changes.
Liquid Facelift Results
As with any cosmetic procedure, results vary. Some results can be seen immediately, but improvements may continue for a few days. There is usually no recovery time and you can resume normal activities immediately. Patients often achieve their desired results in one session. Depending on the placement of injections and the products used, results typically last between one to two years. You can increase the longevity of your Liquid Facelift with touch-up appointments as long as there is still filler present.
Schedule Your Liquid Facelift Consultation
If you think this procedure may be right for you and you'd like more information or to schedule a consult, contact our aesthetic specialists. Let us design a Liquid Facelift treatment uniquely for you!