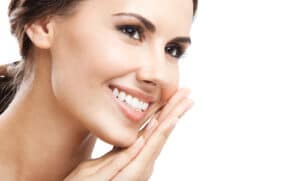 As the most expressive area of the body, the face is often the first area in which people begin to see common signs of aging. To help combat wrinkles, volume loss, skin laxity, and other issues that often develop as a result of the natural aging process, our experienced plastic surgeon offers a comprehensive array of innovative facial rejuvenation procedures. Dr. Moises Salama is extensively trained and dedicated to providing exceptional care. Every technique is customized to best suit the needs and goals of the individual, and our commitment to natural-looking results can provide a beautiful outcome regardless of the concerns you are addressing. Talk to us today to learn how you can put your best face forward.
Follow the links below to learn more about the state-of-the-art facial procedures available from our practice. For more information, please reach out to our skilled medical team to schedule a consultation.
Upper Lip Lift
The Upper Lip Lift adds volume and shortens the upper lip to give a curvier and more plump appearance.
Eyelid Surgery (Blepharoplasty)
Excess eyelid skin can make you appear tired, irritable, or older than your actual age. Sagging eyelid skin can even obstruct your vision. An Eyelid Lift from our board certified plastic surgeon can address these issues as well as reduce the appearance of under-eye bags and rejuvenate the entire eye area.
Chin Augmentation
Changing the shape and projection of the chin can have a dramatic effect on the aesthetics of the face, particularly the profile. Enhance the harmony between each facial feature with Chin Augmentation from our skilled medical team.
Cheek Augmentation
Often combined with Chin Augmentation and/or Facelift surgery, Cheek Augmentation can restore volume to the midface and improve the balance between facial structures. Dr. Salama's keen artistic eye helps to ensure a natural-looking and cosmetically appealing outcome.
Lip Augmentation
Plump your pout and refine your lip line with the latest lip augmentation options. Lip Augmentation can create fuller, more youthful-looking lips as well as reduce the appearance of fine lines around the mouth. Dr. Salama utilizes innovative techniques to create subtle yet significant enhancement in this area.
Ear Surgery (Otoplasty)
Prominent ears can be a source of discomfort for children and adults. Ear surgery can modify the size and projection of the ears to improve their proportion and to sit more closely to the head.