Your forehead, like your eyes and your smile, can be used to express emotion and communicate nonverbally. Changes to this area that occur as a result of the natural aging process, environmental influences, and genetic factors can make you appear older than your actual age. Fortunately, our extensively trained plastic surgeon offers Brow Lift surgery to address hooded eyes, a heavy brow, and other common concerns. Want a younger-looking and more rejuvenated forehead that expresses how you feel? Contact us today to learn more.
What are the benefits of Brow Lift surgery?
Designed primarily to lift the tissues of the forehead to a higher, more youthful position and trim excess skin, a Brow Lift can provide a wide range of benefits, including:
Achieve smoother skin and reduce creases along the brow
Open up the eye area for a more alert and awake appearance
Create a firmer and more youthful-looking upper face
It's also important to note that Brow Lift surgery can be combined with other surgical and non-surgical procedures such as Facelift surgery, Eyelid Lift, and cosmetic injectables. Dr. Moises Salama will review all your options during your initial consultation and provide guidance to help you select the ideal approach for your characteristics and cosmetic goals.
Is a Brow Lift right for me?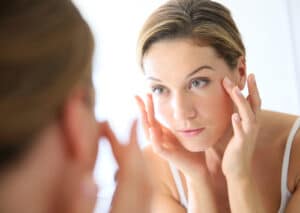 If you have one or more of the following concerns, a Brow Lift may be able to help you achieve your goals: your forehead has deep creases caused by descending skin and tissues, your brow line is heavy and pushing down your eyelids, you want to rejuvenate this area. In some cases, excess skin on the eyelids is partially or completely the result of a heavy brow, so this procedure may be recommended over an Eyelid Lift for some patients. To be an ideal candidate, you should be in good health and be a nonsmoker, or someone who can cease smoking for several weeks before and after the procedure. If your main concern is fine lines and skin quality, non-surgical treatments may better suit your needs and desired outcome. You can discuss your goals with Dr. Salama, who will evaluate your features to provide advice on which techniques can optimize your outcome.
What procedures are commonly combined with a Brow Lift?
Some of the most common procedures that are combined with a Brow Lift surgery are a Facelift surgery and Eyelid Surgery. Fat Grafting may be helpful for some individuals who are experiencing volume loss in different areas of the face. Additionally, many patients opt to enhance their results with minimally invasive cosmetic injectables, including BOTOX® Cosmetic, JUVÉDERM®, Restylane®, and others. Ultimately, the right combination treatment will vary based on your individual needs and expressed goals.
Are there any non-surgical alternatives?
Minimally invasive treatments like injectable fillers can help to enhance your results in the event you need to address fine lines or volume loss. However, non-surgical techniques cannot provide the same degree of rejuvenation as an operation. Mild skin laxity may be treated without surgery, but excess skin often has to be trimmed away to effectively improve its appearance, which requires an operation. Every person is unique, and we will provide detailed, personalized suggestions for you during your first visit.
What should I expect during the procedure?
With this procedure, incisions are typically well-hidden, often in the hairline. Dr. Salama will lift the underlying tissues, including muscles of the forehead and eliminate excess skin as needed. Dr. Salama makes every effort to make the marks as inconspicuous as possible. Most patients heal very well and have virtually imperceptible scars.
What will recovery be like?
You should be able to return home the same day as the Brow Lift procedure. Depending on whether you received one or more treatments, your recovery should last about a week or so, potentially longer if you had a more extensive treatment plan. After this initial period, you should be able to return to normal activity, although you should continue to avoid strenuous activity for at least four to six weeks. We will provide prescription medication to enhance your healing process. We recommend keeping your head elevated for the first two weeks, even while sleeping, to facilitate healing and reduce swelling. Effects like bruising, tenderness, numbness, and swelling should subside with time, and most patients can see the majority of the benefits after just a few months.
To learn more about Brow Lift surgery, please contact our practice today. Our friendly and knowledgeable medical team can help you schedule a consultation.