One of the most popular cosmetic procedures in the nation, Facelift surgery can rejuvenate the mid and lower face as well as the upper neck by tightening underlying tissues for a firmer, smoother look. Dr. Moises Salama utilizes advanced cosmetic techniques that are designed to provide a gentle lift without the appearance of having had "work done." Often combined with other modalities, Facelift surgery from our experienced plastic surgeon is customized for each patient to help reduce common signs of aging and achieve beautiful, lasting results.
What can a Facelift do for me?
Depending on the unique details of your treatment plan, a Facelift can provide a wide range of benefits. Strictly sticking with traditional techniques, Facelift surgery can often:
Eliminate excess sagging skin
Tighten loose muscles and underlying tissues of the face
Smooth deep creases
Enhance contour of the midface, lower face, and jawline
Many patients opt to combine Facelift surgery with other surgical and non-surgical techniques to further rejuvenate their features. If you're interested in other restorative options, Dr. Salama will discuss a full range of treatments that can help you achieve your desired outcome.
Who is a good candidate for this procedure?
Our highest priority is providing our patients with the best care in the safest environment possible. With that objective in mind, Dr. Salama will evaluate your anatomic needs and review your medical history to ensure you're in good general health and that this procedure can deliver the desired effect. He will also go over the details of your plan so you know what to expect and have a reasonable idea of what's achievable. You should also have moderate to significant skin laxity in the area to be treated and want to rejuvenate your appearance.
Are there any alternative treatments?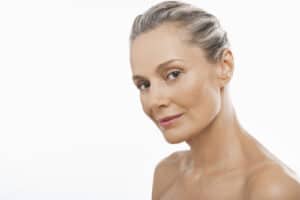 We offer a comprehensive range of surgical and minimally invasive aesthetic treatments with dermal fillers. One or more of these techniques may be a suitable alternative for a Facelift, depending on what you would like to achieve. A non-surgical procedure cannot provide the same effect as a surgical one, and if you have significant skin laxity, Facelift surgery is likely the ideal approach. If your concerns have more to do with wrinkles and fine lines, volume loss, and skin quality, cosmetic injectables may be a better solution. Many patients experience a combination of issues, in which case a multi-modality treatment plan may offer the greatest level of aesthetic rejuvenation. All of these options will be discussed during your initial consultation so that you can feel comfortable and confident selecting an approach that's right for you.
What should I expect from the procedure?
Through small incisions, Dr. Salama will carefully lift the underlying tissues of the face and restore them to their previous, more youthful location. Excess skin will be trimmed as needed, and fat grafting may be recommended in some cases. Tightening the facial muscles helps to achieve a longer-lasting and more natural-looking result than simply elevating the skin. Dr. Salama will discuss his specific technique with you during your first meeting so that you can be as well-informed as possible about your treatment.
Will the scars be visible?
Dr. Salama will place the incisions in well-hidden locations within the hairline near the temple and around the creases of the ear. This is done to keep them as inconspicuous as possible while providing the maximum amount of rejuvenation. Most patients heal very well and the scars become nearly imperceptible. We can provide additional suggestions on how to minimize the appearance of surgical marks to help you achieve the desired result.
How long does recovery last?
Once you return home from the procedure, typically the same day as the surgery, you should relax at home for at least a week. You should be able to return to your regular schedule after that point; however, you should continue to avoid strenuous activity and exercise for another five to six weeks. Swelling, particularly if you received fat injections as part of your treatment, as well as bruising and tenderness are common effects, which should subside over time. Numbness is also often reported, and this symptom should gradually fade as well. We recommend sleeping with your head elevated for the first few weeks to help promote healing, and we will provide prescription medication to manage your pain. Your care and comfort are primary concerns, and we will schedule several follow-up visits during your recovery to make sure your outcome is coming along as discussed.
Would you like to learn more? Our extensively trained medical team is happy to answer your questions. Contact us today to schedule a consultation.