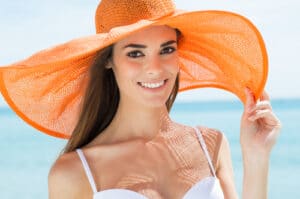 The delicate skin of the neck is sensitive to the normal effects of time, the influence of genetics, and the result of sun and environmental damage. Deep creases, loosening tissue, and "turkey wattle" are some of the most commonly reported concerns affecting this area. Excess fatty tissue or "double chin" are also issues that many people experience. Neck Lift surgery from our extensively trained plastic surgeon can address these cosmetic matters and provide long-lasting, natural-looking rejuvenation. Dr. Moises Salama is dedicated to exceptional patient care, and we will provide attentive treatment and customized procedures tailored to your unique needs and desired outcome.
What areas of concern can this procedure address?
A Neck Lift can improve many common concerns, including reducing excess skin, tightening underlying muscles and platysmal bands that cause the "rope-like" effect, and eliminating excess fatty tissue. If you have inelastic skin, deposits of fat, and a softening jawline, this procedure may be able to help you restore a firmer, smoother, and more youthful look to your neck, chin, and jaw. Neck Lift surgery is often combined with a Facelift for more comprehensive enhancement, and if you're interested in this, Dr. Salama can guide your decision to optimize your results.
Am I a good candidate for Neck Lift surgery?
During your initial consultation, we will go over your medical history and evaluate your needs and current health to determine if this procedure is right for you. We will also discuss your expectations for results, and help you understand what can be achieved with your recommended treatment plan. If you're bothered by excess skin and fat, deep creases, and neck banding, Neck Lift surgery may be right for you. If another technique can provide better results, we will review your options and assist you in making a decision that offers the best possible outcome. We pride ourselves on listening to our patients' needs and goals and consider aesthetic enhancement to be a collaborative process.
What should I expect during the procedure?
A Neck Lift can raise and tighten tissues as well as remove pockets of fatty tissue. This is done by making incisions below the chin and behind each ear. Liposuction may be used to eliminate unnecessary fat, and the platysmal muscles are sewn together to create a firmer, smoother effect. Excess tissue is trimmed and then the incisions are closed. Dr. Salama is careful to place the incisions in such a way as to make them inconspicuous, and most patients report that they are very unnoticeable once healed.
What will my scars look like?
Our goal is to provide results that are as natural-looking as possible, and part of that process involves placing the incisions where they cannot be easily seen. A small incision is made under the chin. In most cases, this heals very well, with the scar becoming smoother, flatter, and more skin-toned with time. The other two incisions are placed behind the ears and are well-hidden by the natural creases of your anatomy. We can demonstrate where each of these entry points will be placed during your first appointment and show you before-and-after pictures so you have a good idea of what the final result will look like.
Are there any non-surgical alternatives?
Depending on what you would like to achieve, you may have several options for cosmetic enhancement. If your primary concern is fatty tissue, KYBELLA® may be a suitable alternative. This non-surgical injectable can reduce fatty tissue along the chin, providing a more contoured jawline and chin for individuals suffering from submental fullness or a "double chin." We can let you know if this treatment is appropriate for you at your initial consultation.
How long will recovery take?
You should plan to take at least one week off from your schedule, including work and normal household chores. Some patients require a little more time, particularly if they combine surgical techniques for greater facial rejuvenation. You will feel some soreness, swelling, and numbness, which is normal, and bruising is also common. These effects should subside with time. We will provide post-operative instructions to help you navigate the healing process, and medication will be prescribed to manage your pain. Most patients are able to get a good idea of the final outcome after about two months or so, with some minor swelling continuing after this point but typically unnoticeable.
We want to help you look and feel your best. Talk to us today for more information about Neck Lift surgery and to schedule a consultation with Dr. Salama.