Moises Salama M.D.
Board Certified Plastic Surgeon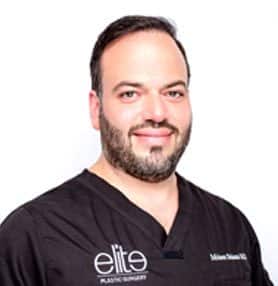 Dedicated to the compassionate and attentive treatment of each patient, Dr. Salama has the skill and experience to contour your physical attributes and improve your natural shape. His harmonious integration of science, art, and aesthetics is designed to achieve uncompromising results. He is renowned for his patient-focused and relationship-building approach. During the initial consultation process, Dr. Salama seeks to create a personalized surgical or nonsurgical plan to achieve his patient's desired goals. Dr. Salama believes that both trust and bedside manner are paramount, and as such he makes sure every patient is well informed throughout their journey.
Featured Influencer
Meet our Influencers and why they chose Dr. Salama
View More
Patient Reviews
"Our interaction was brief but that what I expected. I met him right before surgery. He has a calm demeanor. He's quite serious and asks you several questions. Mainly about your expectations. Once you answer he gives you his take. It's important not to expect perfection but more so Improvement and a big improvement it will be! He then marked me. After that you're called in and ready to go. Sergio the anasthesiologist was awesome, great sense of humor. next thing I knew I was waking up and it was all said and done. I came back the next morning to seen by Dr S. He was very gentle and reviewed the work. He stated swelling will go down with time and lumps should too. He emphasized the importance of getting the lymphatic massages and he's right. This is crucial to your new shaping. My last day in Miami I had my last visit. This time I met with the nurse who removed my drains and answered all my questions. She asked if I felt I needed to speak with the doc but I was good so I passed. All in all this was one of the BEST decisions I ever made. My only regret is not doing it sooner. I am so happy I chose this man. He's not only the best plastic surgeon there is but he's truly an artist like he can really sculpt. If anyone is looking into this procedure there is no need to look any further. This is the man you want. I truly am obsessed with my new body and that's all due to the magical hands of the one and only Dr Salama."
More Reviews
Brazilian Butt Lift
Having performed thousands of Brazilian Butt Lifts throughout his career, Dr. Salama has become one of the most sought-after Brazilian Butt Lift surgeons in the world. Patients have traveled from many foreign countries seeking his aesthetic eye and contouring ability of the female torso. Every patient has unique cosmetic goals; therefore, a Brazilian Butt Lift by Dr. Salama begins with a conversation about your desired outcome. Dr. Salama will review your likes and dislikes, answer your questions, and evaluate your anatomic qualities to develop a customized treatment plan based on your vision. By utilizing advanced proprietary techniques he has refined over years of experience, Dr. Salama can help shape your body with beautiful, natural-looking results.
Moises Salama M.D.
Board Certified Plastic Surgeon