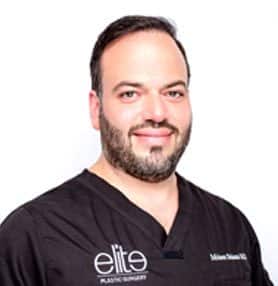 Certified by the American Board of Plastic Surgery and the American Board of Surgery, Dr. Salama is the founder and medical director of Elite Plastic Surgery. He earned his undergraduate and medical degree from the University of Miami, where he also completed his general surgery residency. Dr. Salama then completed his plastic surgery residency at the University of South Florida, where he fine-tuned his skill and artistic ability in cosmetic enhancement techniques, including Brazilian Butt Lift, Breast Augmentation, Tummy Tuck Surgery, and Body Contouring. Following his residency, Dr. Salama finished a Fellowship in Hand Surgery at the University of Virginia.
The recipient of numerous awards, Dr. Salama is also an active member of several prestigious medical organizations, including the American Society of Plastic Surgeons (ASPS) and the American Society for Aesthetic Plastic Surgery (ASAPS). He is fluent in English and Spanish, and he will take the time to answer your questions, address your concerns, and provide exceptional care and an unforgettable experience from start to finish.
Education
Plastic Surgery Residency – University of South Florida
Hand Surgery Fellowship – University of Virginia
General Surgery Residency – University of Miami, Jackson Memorial Hospital
General Surgery Internship – Tulane University Hospital
Medical Degree – University of Miami School of Medicine
BS Degree, Biology – University of Miami
Certifications
Basic Life Support, 2017
Advanced Cardiac Life Support, 2017
Basic Microsurgery – Indiana University, 2007
Honors and Awards
Henry King Stafford Academic Scholarship (1993-1996)
Florida Undergraduate Scholarship (1993-1996)
University of Miami General Honors Program (1993-1996)
University of Miami Medical Scholars Program – combined B.S.-M.D. program for early acceptance into medical school
Alpha Lambda Delta National Academic Honors Society (1994)
Phi Beta Kappa Honors Society (1996)
University of Miami President's Honor Roll (Fall Semester, 1993)
University of Miami Provost's Honor Roll (1993-1996)
University of Miami Dean's Academic List (1993-1996)
Certificate of Merit in Microbiology from The University of Miami Alumni Association and The Citizens Board (1992)
University of Miami Undergraduate Research Fellowship (1994)
Superior Achievement – South Florida Science and Engineering Fair
Professional Licenses
State of Florida Department of Health
Commonwealth of Virginia Department of Health Professions
Research and Publications
Salama M, Halpern D. The Use of Quantitative Sensory Testing in the Evaluation of Peripheral Neuropathies. Presented at the Florida Hand Society Meeting 2007.
Salama M, Chhabra AB. Hand Transplantation. In: Green's Operative Hand Surgery. 5th ed. Philadelphia: Elsevier, 2005.
Salama M, Chhabra AB. Growth Factors and Tissue Engineering: The Future of Surgical Treatment for Flexor Tendon Injuries. In: Green's Operative Hand Surgery. 5th ed. Philadelphia: Elsevier, 2005.
Salama M, Chhabra AB. Results of Four-corner Fusion with a Dorsal Circular Plating System. In: Green's Operative Hand Surgery. 5th ed. Philadelphia: Elsevier, 2005.
Hong JJ, Cohn SM, Ekeh AP, Newman M, Salama M, Leblang SD. A Prospective Randomized Study of Clinical Assessment versus Computed Tomography for the Diagnosis of Acute Appendicitis. Surgical Infections (Larchmt). 2003 Fall; 4(3): 231-9.
Presented at the 112th Annual Session of the Southern Surgical Society, Dec. 5, 2000.
Salama M, Benjamin L, Thaller S, Schachner LA. Aplasia Cutis Congenita. In: Persing JA, Evans G, editors. Soft Tissue Surgery of the Craniofacial Region. Informa Healthcare, 2007.
Salama M, Schild F, Raines J, Baltodano N. The Use of U-clips in Brachial Arterio-venous Fistulas for Dialysis Access, The Vascular Access Yearbook, 2005.
Salama M, Jansen D, Kent JN, Newsome RE, Love L. Facial Alloplastic Implants, Mandibular Angle, emedicine.com, August 5, 2002.
Salama M, Blackbourne L et al. Advanced Surgical Recall, 2nd edition, Associate Editor, 2003.
Salama M, Calancie J et al. Digital Analysis of the Gait Patterns of Rats with Spinal Cord Transection. The Miami Project to Cure Paralysis – data collection.
Salama M, Dickerson I. Construction of a Prokaryotic Expression Vector for Neuropeptide Y – Westinghouse Science Talent Search, 1992.