Ruben Salama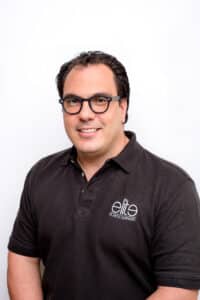 Ruben Salama is the Practice Administrator at Elite Plastic Surgery. In addition to being a co-founder of the practice with his plastic surgeon brother, Dr. Moises Salama, Ruben is a committed member of our team who is dedicated to providing unparalleled care to our patients. His primary goal is to offer exemplary service to each individual and help them achieve their cosmetic goals with as much convenience and ease as possible.
Ruben earned his undergraduate degree from the University of Miami, where he graduated with a dual bachelor's degree in Finance and Business Management & Organization. He has been working alongside Dr. Salama and his team since the practice's opening in 2009. He is driven and always to be the best he can be in the field.
Outside of the office, Ruben is an avid iced tea drinker and family man. Ruben considers his parents his heroes, as they have taught him many memorable life lessons and emphasize the importance of being a good person. Ruben considers it a blessing to work with his brother and a joy to be in such an exciting and uplifting industry.
Thelma Urbina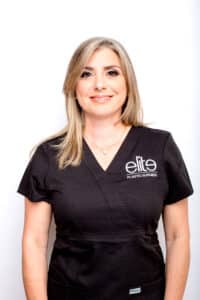 Thelma is our Digital Media PR Director. She works on online lead generation, implementing 360-degree, multi-pronged strategies that involve SEO, Social Media, PPC, and Online PR. Thelma ensures patients have access to the most up-to-date information about Elite Plastic Surgery, our board certified plastic surgeon, our skilled medical team, and our cosmetic procedures, so they can make the best decisions for their needs and goals.
Thelma has over 20 years of experience in the marketing industry and specializes in search engine optimization, online advertising, social media and public relations. She's worked on both the client and business side, and enjoys the opportunity to interface with individuals and get to know their unique perspectives, ambitions, and concerns.
When she's not helping our team provide exceptional service, Thelma enjoys an active lifestyle that includes biking, rollerblading, and spending time at the beach. She's also an avid reader, and she's a self-proclaimed optimist who believes happiness, good energy, and heroism are sources of inspiration that can be readily found in each of us.
Nancy Hernandez
As a Patient Coordinator, Nancy started out as a Real Estate Sales Associate before transitioning to her current position. She has been working with Dr. Salama and Elite Plastic Surgery since 2012, and she boasts nine years of experience. Nancy is a compassionate and committed team member, taking pride in making each patient feel they are receiving the best experience that our practice has to offer. She counts her mother as an inspiration, for always striving to achieve her goals.
Cynthia Perez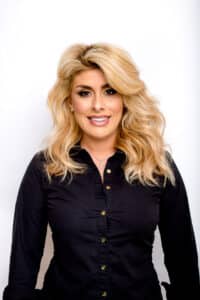 Cynthia, a Patient Coordinator, has been in the Aesthetics Industry for over 16 years. Cynthia started her career as a Surgical Technologist. She is able to explain the procedures explicitly because she has seen them firsthand. She continued her education in pursuit of a Biology degree. At our practice, Cynthia manages the consultation process seamlessly and is the vital link and liaison between the surgeon and the patient. She is a dedicated and compassionate individual, always placing the patient's' needs first. With her caring and genuine demeanor, she will walk you through the consultation process as if she were consulting her own friend. Cynthia's passion is to help patients look and feel their very best, and she will go to great lengths to help them achieve this.
Zuny Anciano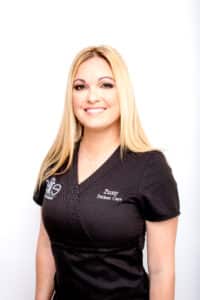 As a Patient Quality Assurance Coordinator, Zuny is dedicated to ensuring our patients have a smooth experience and optimal care at our practice. She has been working in this position since 2011, joining our team at Elite Plastic Surgery in 2013. Zuny strives to provide unsurpassed service to each person, and she credits her attention to detail and compassionate approach for her ability to do so. An avid reader and loving mother, she also enjoys spending time with her children, visiting the beach at night, and people watching.
Jesenia Perez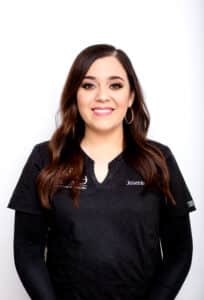 Jesenia is our Associate Patient Coordinator. She's spent 10 years helping patients from the front desk, scheduling appointments, assisting doctors, and collecting payments. Jesenia enjoys spending time with each person who comes in, and she appreciates that she plays a role in achieving each individual's aesthetic goals. Inside and outside of work, Jesenia is an advocate of positive thinking, and one of her favorite hobbies is watching movies.
Nicole Oberti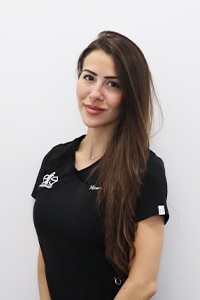 As a Pre-Operative Coordinator, Nicole keeps everything organized and running smoothly. She's been working at Elite Plastic Surgery for one year, and has developed a strong relationship with our medical team and with each patient she meets. An animal lover and cook, Nicole loves to travel and experience new cultures (and foods). She looks forward each day to assisting patients in their cosmetic goals and providing a path forward to improved confidence and greater comfort in one's appearance.
Hanna Maschmidt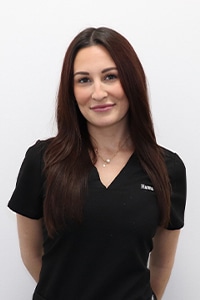 Known to family and friends as Han, Hanna is our Assistant Patient Coordinator. Hanna works closely with our Patient Coordinators supporting them on everything from data-entry, filing, payments, to whatever else they may need. She loves the plastic surgery industry because it allows people to feel more confident about themselves and their bodies. Hanna is a recent graduate from Florida Atlantic University with a Bachelors in Health Sciences, who finds inspiration in everyone around her.  She surrounds herself with people that make her a better person and her mom is her hero and best friend. Hanna's spare time is spent with friends and watching movies with her dog.
Waleska Rojas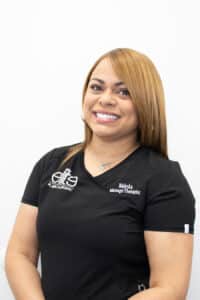 Waleska, better known as Waly, is an extensively trained Massage Therapist. She has more than nine years of experience in the industry and holds a multitude of certifications for various massage techniques including Post-Surgery Massage and Body Treatments Specialist, Manual Lymph Drainage Therapy, Sport Massage, Neuromuscular, Spa Therapies, Rehabilitation, Electro-Stimulation, Ultra-Sound, Laser, Infrared, Cavitation, and Radio Frequency. Waly also has a Bachelor's Degree in Business Administration and is a member of American Massage Association, Florida State Massage Therapy Association, and Hands-On Trade Association. A perfectionist, Waly loves being a massage therapist at Elite Plastic Surgery working alongside Dr. Salama who inspires her to be the best. When she's not spending time with her son, Waly can be found doing trainings or learning a new skill. Her personal hero is God.
*Independent Contractor
Johana Perez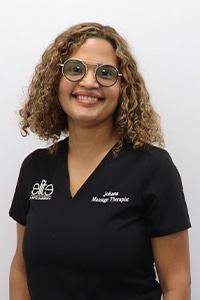 Johana, Yoyo to her close friends, is a highly trained Massage therapist with 3 years of experience in the industry. With many hours and certifications under her belt, she wholeheartedly believes in the healing power of massage and loves to see her patients happy with their results.
In addition, Johana has a Bachelors in Education from the Universidad Simon Rodriguez and an Associates in Business from the Instituto Universitario de Tecnologia in Venezuela. She is also a certified Medical Assistant and a member of the Florida State Massage Therapy Association and the American Massage Therapy Association.
When she's not doing her amazing massages, Johana likes to spend time with her family, cook, dance and go out on her boat.
Daniela Rojas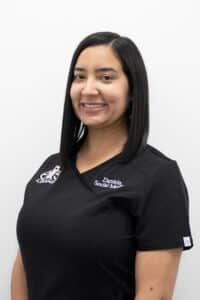 Daniela, known to her friends as Dani, is our Social Media Manager. She's in charge of creating engaging content for all our social media platforms and managing their communities. Dani has a Bachelor's Degree in Visual Effects & Motion Graphics from The Miami International University of Art & design (The Art Institute) and a 2nd Bachelor's in Advertising & Marketing from Florida International University (FIU). She has more than 5 years of experience in video conceptualization and editing, and loves coming up with impactful, moving, out-of-the-box ideas. Outside of work, Dani likes to travel, exercise, rollerblade, spending time with her family, and go to Hooters to watch sports events and sip on mojitos.
Susana Lopez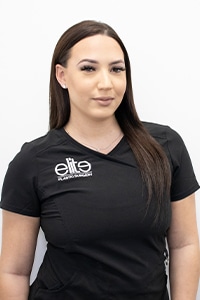 When patients come to the office, Susana is one of the first and last persons they see. Susy, as she's affectionately known around the office, is in charge of managing appointments and assisting with pre-ops. Elite Plastic Surgery is like a second home to her. She loves the family dynamic the staff keeps and enjoys seeing patients leave happy with newfound confidence after achieving their body goals. Besides her experience in the plastic surgery industry, Susy is also a certified make-up artist. In her spare time, she frequents the gym, likes to go shopping, and spends time with her family and dog, Chester. Her sister is her hero. She's been Susy's inspiration while growing up.