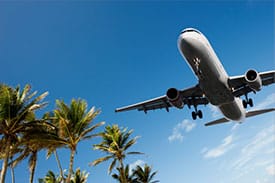 We have tailored our practice, staff, and protocols to specifically accommodate out-of-town patients. From the moment you call us to schedule your surgery, to your last appointment; our staff is knowledgeable in making your surgery stay as comfortable as possible. Our patients come from as far as Europe, Australia, and Asia. Please ask any of our staff members with assistance in lodging, travel, post-operative caretakers, recovery centers, and transportation. Being that our office is conveniently located 15 minutes from Ft. Lauderdale International Airport, there are numerous accommodations in our surrounding area. The most convenient way to have your consultation with Dr. Salama is via virtual consultation. Once you have decided you would like Dr. Salama to be your surgeon, please do request your out-of-town procedure package. This will include all of the necessary information to prepare for surgery, various hotels and lodging accommodation, and your required medical clearance documents.
Planning Guide
At Elite Plastic Surgery, our staff is dedicated to making your trip as smooth as possible. We understand the stress in traveling, yet alone traveling for surgery. If you do have any questions, please do reach out to any of our staff members, and they will be glad to assist you.
Going About the Initial Consultation
For your virtual consultation with Dr. Salama, you will need to send in your pictures via email for Dr. Salama to review. We typically ask patients to provide four full body pictures: front, both sides, and rear. Please email all inquiries to contact@epsmiami.com. Please include any medical conditions and medications you are currently taking.
Once Dr. Salama has reviewed your pictures, one of our patient coordinators will respond within three business days. The patient coordinator will discuss your procedure with you and answer any specific questions or concerns you may have regarding the procedure per Dr. Salama's recommendations. The patient coordinator will also provide you with a price quote and financing options available.
Once you have decided to move forward with your procedure, you will need to discuss available surgery dates with your patient coordinator. Being that Dr. Salama is one of the most highly requested plastic surgeons in the US, surgical dates are very limited. We request a 10% NON-refundable deposit to secure a surgery date. Please make sure to arrive the day prior to your preoperative appointment.
Once you have secured your surgery date, preparations will need to be made in order to assure you are cleared for surgery. We will send a preoperative clearance form with your surgical package. This blood work needs to be completed at about 30 days prior to your surgery. Depending on your age and health, certain additional exams will need to be completed.Please request for your physician to fax over the results to 305-933-4733. Dr. Salama and head nurse will review to make sure everything is accurate for your safety.
Travel preparations need to be made with anticipation. In order to avoid the stress of planning all aspects such as lodging, airports, caretaker, and transportation, we have provided a list of hotels that we currently work with for your convenience. Most patients fly into Fort Lauderdale Int'l Airport (FLL) due to its location and convenience. If a family member is not flying in with you, please notify the office so that they can arrange a caretaker for you (patient financial responsibility). A caretaker can assist you in driving you from the surgery location to the recovering location, driving you to your follow-up doctor visits, prepare meals and drinks, general shopping and grocery shopping, run errands such as prescription pick up, perform hygiene and personal care, including bathing, grooming and toileting, assist with walking, dressing, provide companionship and emotional support.
Outpatient Surgery:
Elite Plastic Surgery
2700 Hollywood Blvd, Suite 200
Hollywood, FL 33020
Below you will find some guidelines as far as how long the recovery typically is. Please make travel and lodging arrangements accordingly:
| Procedure | Days | Detail |
| --- | --- | --- |
| Brazilian Butt Lift | 9-10 days | This is an outpatient procedure. You are required to have a caretaker or family member with you for at least 72 hours after the procedure. You will be seen the day after surgery to make sure you are healing accordingly. There will be several appointments scheduled for you in advance for post-op care and massages. |
| Tummy Tuck | 9-10 days | This procedure is done on an outpatient basis. You will need to have supervision for the initial 72 hours after the procedure. There are several post op appointments. |
| Liposuction | 8 days | This is an outpatient procedure. You are required to have a caretaker or family member with you for at least 72 hours after the procedure. You will be seen the day after surgery to make sure you are healing accordingly. There will be several appointments scheduled for you in advance for post-op care and massages. |
| Breast Lift / Breast Reduction | 7 days | This procedure is done on an outpatient basis. There are several post op appointments. |
| Labiaplasty / Vaginoplasty | 3 days | Although this is not an extensive procedure it does require some special considerations. Patient needs to remain in the area for a total of three days. |
| Eyelid Surgery | 5 days | Recovery will depend on whether it is local (for upper eyelids only) or general for lower/upper lids combination. |
Travel Information
Airport & Transportation
Ft. Lauderdale Airport, Florida
320 Terminal Drive
Ft. Lauderdale, FL 33315
Phone: (954)359-6100
Website: www.broward.org/Airport/
The Fort Lauderdale-Hollywood International Airport receives many flights per day and hundreds of visiting travelers from all over the world. Also called FLL, the Fort Lauderdale Airport is perfectly situated in the heart of Broward County just minutes from Fort Lauderdale Beach and the world famous sandy beaches of Ft Lauderdale. If you can't locate the information you are looking for on our web pages, just call the Ft Lauderdale Airport Direct.
Miami International Airport
2100 NW 42nd Ave.
Miami, Fl 33142
Phone: (305) 876-7000
Website: www.miami-airport.com
Miami International Airport (MIA) is the largest U.S. gateway for Latin America and the Caribbean and is one of the leading international passenger and freight airports in the world. Located on 3,230 acres of land near downtown Miami, MIA's terminal is being expanded to more than seven million square feet through a capital improvement program scheduled for completion in of 2012.
Advantage Limousine
2925 NE 190th St., Suite 304
Miami, FL 33180
Phone: (786) 493-5489
Fax: (305) 918-7684
Email: advantagelimoinc@gmail.com
Website: www.limos.com
Advantage Airport Limousine has been serving the South Florida market for over 10 years. We are a partner of Limos.com. Our specialty is to provide you with great value. Vehicles no more than 3 years old, chauffeurs are well trained, and most important with a complete background check, to ensure a safe and smooth ride. Our business model is to make your transportation arrangements as simple as possible. Try our services one time and we will make sure to impress you and exceed your expectations.
Hotels in the Area
Turnberry Isle Resort
19999 West Country Club Drive
Aventura, Florida 33180-2401
Distance: 12 mins / 6.21 miles
Telephone: (305) 932-620
Fax: (305) 933-6560
Reservations: (800) 327-7028
Website:
www.turnberryislemiami.com
As magnificent as the 300 tropical acres beyond your balcony, the private realm of Turnberry's guest rooms is a destination in itself. The connoisseurs at the Zagat Guide call these "The best rooms in the South."
Here, every detail has been considered: the cut of every flower, the comfort of each brocade, the subtle scent of every soap. While luxuriating in the warmth of your whirlpool tub, you may choose to keep abreast of the outside world via your bath's color television or a selection of newspapers from around the globe.
Courtyard By Marriot
2825 NE 191st St.
Aventura, FL 33180
Distance: 12 mins / 6.36 miles
Phone: (305) 937-0805
Fax: (305) 937-0806
Website:
www.marriott.com/hotels/hotel-information/travel/miaav-courtyard-miami-aventura-mall/
Courtyard by Marriott surrounds travelers with the conveniences that make business and pleasure travel easy. Relax and get ready for the day ahead in one of our guest rooms, featuring a comfortable large well lit work desk with ergonomic chair, two phones with data ports, complimentary weekday newspaper, and in-room coffee. Start your morning with a reasonably priced healthy breakfast buffet.
Hampton Inn
Hallandale Beach/Aventura
1000 South Federal Highway
Hallandale Beach, FL 33009
Phone: (954) 874-1111
Fax: (954) 874-1112
Website:
hamptoninn3.hilton.com/en/
hotels/florida/hampton
-inn-hallandale-beach-
aventura-FLLHDHX/index.html
The all-new Hampton Inn Hallandale Beach – Aventura provides the quality you would expect at an upscale hotel, but at an affordable price. Enjoy the complimentary breakfast buffet, relax by the outdoor tropical pool or work out in the fitness center. Our central location gives you easy access to I-95, which can take you anywhere in Miami and Ft. Lauderdale. Plus, you're just minutes away from the beach, the incredible Aventura Mall, horse racing at Gulfstream Park and dog racing at Hollywood Greyhound Track.
Newport Beachside Hotel & Resort
16701 Collins Avenue
Sunny Isles Beach, FL 33160‎
Phone: (800) 327-5476
Website:
newportbeachsideresort.com
Additional Hotels:
Marbay Hotel – 800-279-1952
Crown Plaza – (800) 992-2694
Ramada Inn Hollywood – (954) 927-3341
Hollywood Beach Resort – (954) 921-0990
Marco Polo – (305) 932-2233
Travelodge – (877) 784-6835
Hollywood Beachside Hotel & Suites – (866) 539-8117
Hollywood Beach Marriott – (866) 539-8117
La Playa de Varadero – (954) 224-4715