Alex Barcellos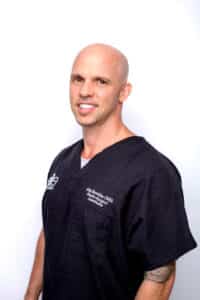 As a Certified Registered Nurse Anesthetists (CRNA), Alex Barcellos works alongside Dr. Moises Salama in the operating room, striving to provide an exceptional experience to each of our patients. His compassionate treatment and attention to detail help to make individuals feel confident and comfortable at every stage of care.
Alex has over 14 years' experience in his profession, having worked at Baptist Hospital in Kendall, Cleveland Clinic in Weston, and now here at Elite Plastic Surgery. He earned his Master of Science degree in Anesthesiology from Barry University, and he is an active member of numerous esteemed medical organizations, including the American Association of Nurse Anesthetists (AANA) and the National Board of Certification and Recertification for Nurse Anesthetists (NBCRNA). Always looking for the positive moments in life, Alex finds working in cosmetic surgery to be uplifting and rewarding, as it provides an opportunity to improve the lives of others and help them achieve their goals.
When not assisting Dr. Salama at Elite Plastic Surgery, Alex is usually spending time with his family. He also enjoys going to the gym, practicing Capoeira, riding his motorcycle, and watching movies. He considers his younger son Nico a hero of his, saying the boy helps him to be the best person and medical professional he can be.
Sergio Hernandez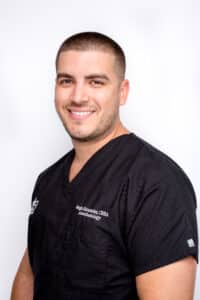 Sergio Hernandez is a skilled Certified Registered Nurse Anesthetists (CRNA), as well as a Doctor of Nursing Practice (DNP). He is dedicated to the patient experience, taking time to study the latest information on anesthesiology and striving to remain at the forefront of his field. His goal is to provide each person with uncompromising treatment and to optimize their outcome. This focused care on the part of Sergio and all of our team members is what distinguishes Elite Plastic Surgery from the competition.
Extensively trained in anesthesiology, Sergio earned his Bachelor of Science in Nursing and his Master of Science in Nursing degrees at University of Miami. He then continued his training at Barry University, where he earned his Doctor of Nursing Practice degree in Anesthesia. He has published an article in the Journal of the American Association of Nurse Anesthetists (AANA), a prestigious organization for which he is a member. Additionally, Sergio holds active certifications in ACLS/BLS/PALS.
Sergio has been with Elite Plastic Surgery since its inception, and he has over eight years' experience in the industry. When not elevating the patient experience at our practice, Sergio is often performing research into his varied interests, including cardio-thoracic and evidence-based anesthesia, plastic surgery, Cell Saver® technology, and fitness.
Surgical Assistants
Salomon El Alam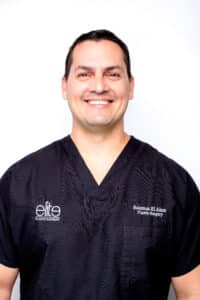 Salomon El Alam, First Surgical Assistant, works closely with Dr. Salama at our state-of-the-art practice. Highly trained in an abundant selection of leading surgical techniques, he helps provide a comfortable, welcoming, and safe environment for each patient. His technical skill and personable demeanor make him a memorable and advantageous addition to our team, and he takes great joy in assisting individuals in achieving their cosmetic goals.
Salomon was a medical doctor and general surgeon in Venezuela—training at the Universidad Nacional Experimental Francisco de Miranda (UNEFM) and the Hospital Perez de Leon – Caracas—before moving to the US to work in cosmetic surgery. He has served over 15 years as a physician, two years as a general surgeon, and 10 years as a First Surgical Assistant in plastic surgery. For the last five years he has been working with Dr. Salama at Elite Plastic Surgery. Salomon is also an active member of the American Board of Surgical Assistants (ABSA).
A compulsive cleaner and avid motorcycle rider, Salomon loves watching movies, exercising, and mountain biking when he's not at our office. His dedication to patients is one of his top priorities, and he looks forward to coming to work each day and seeing the amazing transformations as they develop.
Harlem Jurado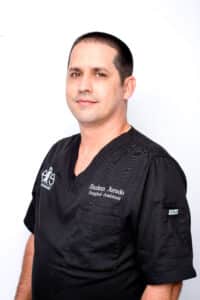 As a First Surgical Assistant, Harlem Jurado has an essential role assisting Dr. Moises Salama in performing a comprehensive array of cosmetic surgery procedures. His extensive experience both here and in Cuba has spurred his passion for helping others, and he looks forward to aiding our patients in achieving their individual aesthetic goals in the most comfortable and safe environment possible.
Harlem has an impressive educational background that allows him to provide exceptional care to our patients. He trained as a medical doctor and a general surgeon, receiving degrees at the Universidad de Camaguey and Las Tunas University, both in Cuba. He spent over 18 years working as a medical doctor and over seven years as a general surgeon in Cuba before coming to the US, where he trained as a Surgical Assistant in plastic surgery. In addition to his considerable medical experience, he is also an active member of the Sociedad Iberoamericana de Cirugia and the Sociedad Cubana de Cirugia.
Harlem is a family man, and when not helping to make a difference in the lives of our patients at Elite Plastic Surgery, he can usually be found spending time with his loved ones.
Operating Room Staff
Monica Cadavid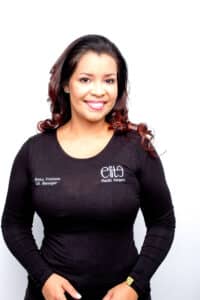 As the Operating Room (OR) Manager at our practice, Monica works closely with Dr. Salama and our patients. A medical and nursing assistant, she has 12 years' experience in the plastic surgery industry, four of which have been spent as a member of our team. Monica is known for her sense of humor as well as her perfectionism. During her free time, she loves to stay active and enjoy the outdoors, where you can often find her fishing, kayaking, and dancing.