Alex Barcellos CRNA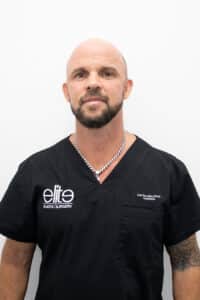 As a Certified Registered Nurse Anesthetists (CRNA), Alex Barcellos works alongside Dr. Moises Salama in the operating room, striving to provide an exceptional experience to each of our patients. His compassionate treatment and attention to detail help to make individuals feel confident and comfortable at every stage of care.
Alex has over 14 years' experience in his profession, having worked at Baptist Hospital in Kendall, Cleveland Clinic in Weston, and now here at Elite Plastic Surgery. He earned his Master of Science degree in Anesthesiology from Barry University, and he is an active member of numerous esteemed medical organizations, including the American Association of Nurse Anesthetists (AANA) and the National Board of Certification and Recertification for Nurse Anesthetists (NBCRNA). Always looking for the positive moments in life, Alex finds working in cosmetic surgery to be uplifting and rewarding, as it provides an opportunity to improve the lives of others and help them achieve their goals.
When not assisting Dr. Salama at Elite Plastic Surgery, Alex is usually spending time with his family. He also enjoys going to the gym, practicing Capoeira, riding his motorcycle, and watching movies. He considers his kids the focus of his life as they help him to be the best person and medical professional he can be.
*Independent Contractor
Surgical Assistants
Salomon El Alam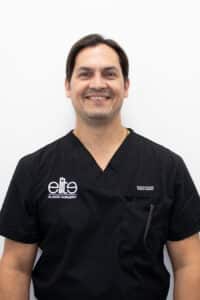 Salomon El Alam, First Surgical Assistant, works closely with Dr. Salama at our state-of-the-art practice. Highly trained in an abundant selection of leading surgical techniques, he helps provide a comfortable, welcoming, and safe environment for each patient. His technical skill and personable demeanor make him a memorable and advantageous addition to our team, and he takes great joy in assisting individuals in achieving their cosmetic goals.
Salomon was a medical doctor and general surgeon in Venezuela—training at the Universidad Nacional Experimental Francisco de Miranda (UNEFM) and the Hospital Perez de Leon – Caracas—before moving to the US to work in cosmetic surgery. He has served over 15 years as a physician, two years as a general surgeon, and 10 years as a First Surgical Assistant in plastic surgery. For the last five years he has been working with Dr. Salama at Elite Plastic Surgery. Salomon is also an active member of the American Board of Surgical Assistants (ABSA).
A compulsive cleaner and avid motorcycle rider, Salomon loves watching movies, exercising, and mountain biking when he's not at our office. His dedication to patients is one of his top priorities, and he looks forward to coming to work each day and seeing the amazing transformations as they develop.
Carlos Diaz Lugo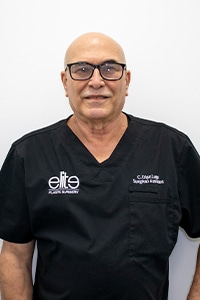 First Surgical Assistant, Carlos Diaz Lugo is instrumental in helping Dr. Salama with a variety of plastic surgery procedures. Carlos has extensive experience in the operating room. After graduating in general medicine from the Instituto Superior de Sciencias Medicas in Havana in 1980 and from La Universidad de la Habana in 1985 with a specialization in general surgery, he served as a general surgeon in Cuba for 34 years. In addition, Carlos has been a surgical assistant in the plastic surgery industry for the past 6 years right here in Florida.
Carlos is inspired by helping patients achieve their dream body. He loves that plastic surgery creates positive changes via aesthetic harmony, thereby producing happy and confident patients. In his spare time, Carlos is a fishing enthusiast.
Operating Room Staff
Monica Cadavid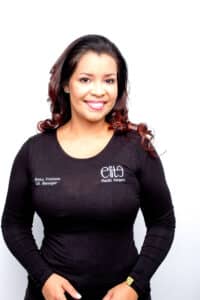 As the Operating Room (OR) Manager at our practice, Monica works closely with Dr. Salama and our patients. A medical and nursing assistant, she has 12 years' experience in the plastic surgery industry, four of which have been spent as a member of our team.
Monica is known for her sense of humor as well as her perfectionism. During her free time, she loves to stay active and enjoy the outdoors, where you can often find her fishing, kayaking, and dancing.
Isabel Daniel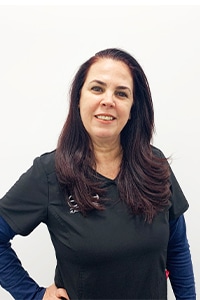 Isabel, or Isa as she's known around the office, works closely with the surgical team as Operating Room (OR) Circulator. She is a medical and nursing assistant and has been with Elite Plastic Surgery since 2017.
Isa boasts 13 years of experience in the plastic surgery field, having always wanted to be in the healthcare industry helping others. In her free time, she likes to exercise, dance, laugh and have fun. But most of all, she enjoys spending time with her daughter.
Yaima Rosado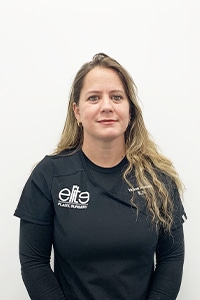 As a Registered Nurse and First Surgical Assistant, Yaima Rosado is dedicated to providing our patients with exceptional care and attentive treatment. She has over 4 years of experience in medical industry in various roles such as a medical assistant, operating room manager, and supply manager.
An essential member of our team since 2018, Yaima manages post-surgical recovery and assists with follow-up appointments. She loves helping patients and seeing their self-esteem and appearance improve from the beginning of their journey to the very end. Outside of her nursing duties, Yaima most enjoys spending time with her family.