Liposuction can be applied to various parts of the body such as the chin, upper arms, chest, back, abdomen, waist, buttocks, hips, thighs, inner knee, and calves. At Elite Plastic Surgery, 360 Lipo is one of our most popular procedures since it treats several key trouble areas at once: the upper and lower abdomen, upper and lower back, and flanks. 360 Lipo is a main component of the Brazilian Butt Lift surgery. In addition, it can be combined with other cosmetic procedures including the tummy tuck and breast reduction, among others.
It is important to understand that Liposuction Miami procedures should not be used as a substitute for diet and/or exercise, or as a treatment for obesity, sagging skin, or cellulite.
Liposuction Surgery
Liposuction is a versatile procedure. It can be performed on large areas (thighs, buttocks, abdomen, etc.) and small areas (chin, outer breasts, ankles, etc.) of the body. A tiny incision is made in the trouble area and a thin cannula is inserted into the incision to break up the fat deposits underneath the skin using a technique of controlled back and forth motion. Then, the excess fat from the treatment areas is suctioned out of the body via a surgical vacuum pump attached to the cannula. It's important to note that fluid retention and swelling are common experiences following Liposuction Miami procedures, but once that subsides, improved body contour is apparent. After surgery, our patients are encouraged to keep healthy eating habits and exercise regularly to maintain lasting long results. For patients wanting a more sculpted look, High-Def VASERlipo Etching may be a better option.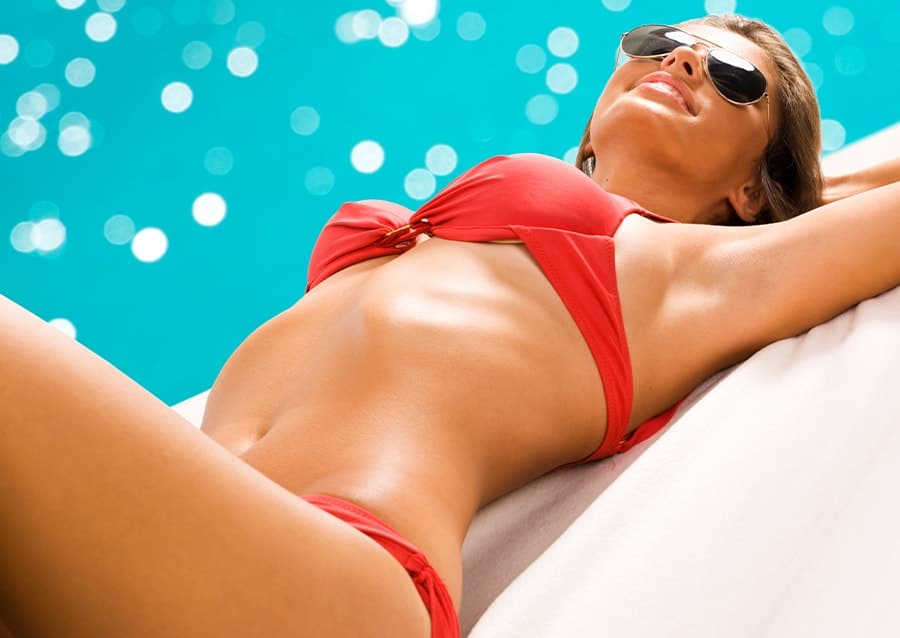 Types of Liposuction Miami Procedures
There are several different methods of Liposuction that make it easier, safer, less invasive and less painful.
Power Assisted Liposuction (PAL) extracts fat via smaller incisions with a mechanical cannula, requiring less manual effort especially in fibrous body parts. Risks and complications are less than with manual lipo since this method is quicker to perform. PAL also tends to leave less bruising and has a shorter recovery time because it doesn't employ much force to release the excess fat in patients. And, there are no accidental burns, as the procedure uses no heat. MicroAire's PAL® LipoSculptor™ is a US patented instrument that surgeons use to perform PAL. Its trademark technique does not require as much physical effort as traditional lipoplasty, using reciprocating motion rather than rotating motion once the cannula is inside the tissue. This allows for a better experience for doctors as well as patients. Since the PAL® LipoSculptor does not require heat, as with ultrasonic and laser devices, there are no accidental burns.
Suction Assisted Liposuction (SAL), or traditional Liposuction, employs a pressure vacuum attached to a small cannula, which is manually operated by the plastic surgeon to suction the excess fat as it is broken up.
Ultrasonic Assisted Liposuction (UAL) uses ultrasound to disrupt the fat cells, making the removal of fat easier, reducing the chances of bleeding complications, trauma and bruising. The liquefied fat can be drained as its being liquefied or afterwards. This technique is seen as less traumatic and more efficient than other methods, and gives the doctor more control when contouring the body, producing softer, smoother results and better definition. It also produces more skin tightening during the post-operative period. This plastic surgery can be performed on both men and women, in the male breast area, abdomen and back.
Laser Liposuction, such Smart Lipo or Slim Lipo, uses a laser beam to disrupt the fatty tissue to prevent fat cells from storing more fat. The procedure helps remove localized fat in the chest, male breasts, abdomen, back, hips, thighs and knees. It is minimally invasive, which allows for a quick recovery and results in less bruising, inflammation and bleeding when compared to the traditional procedure.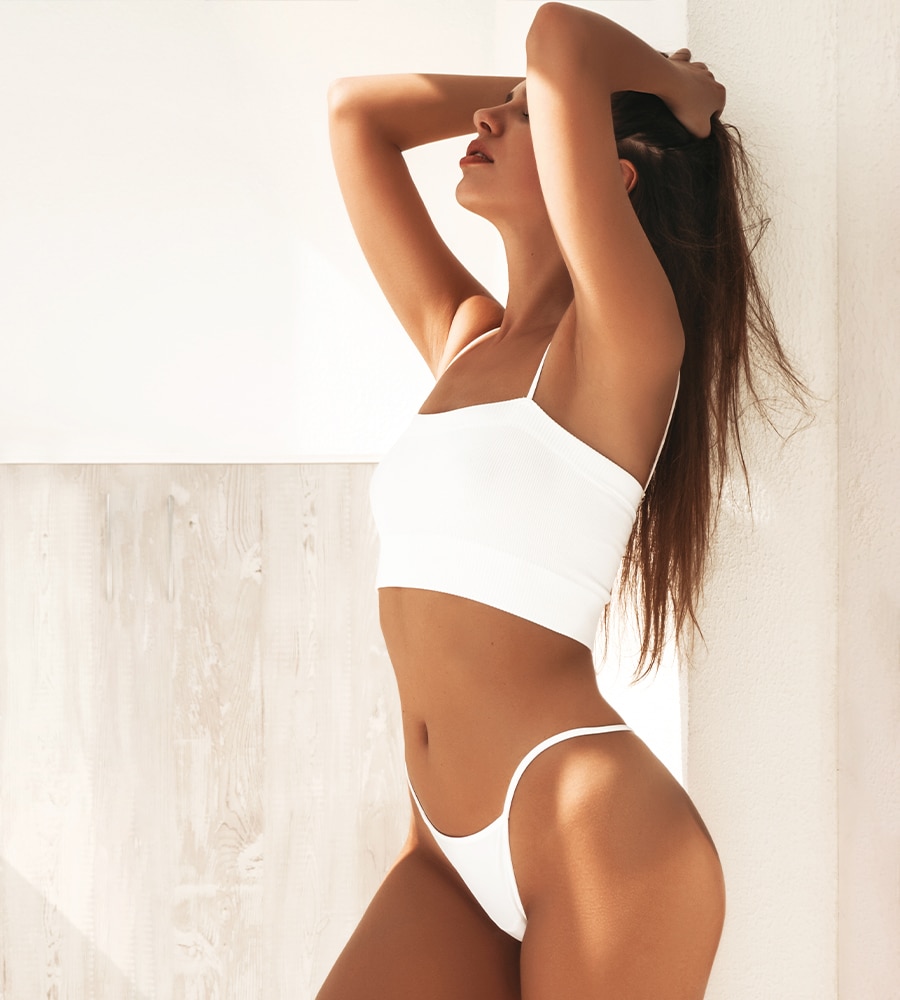 Benefits and Risks of Lipo
What are the benefits and risks to getting liposuction?
There are both mental and physical benefits from Liposuction. It is considered a very effective and safe method of removal of excess body fat, especially from trouble areas that don't respond to non-invasive treatments or exercise. Another benefit of lipo is the improved appearance of cellulite.
Suction Assisted Liposuction (SAL) risks include numbness, swelling and color changes in the treated area as well as irritation at the cannula insertion point. Fluid imbalance is another complication that may arise after the procedure. In some cases, persistent swelling may last for weeks or months after the procedure. Another risk is an embolism, detached fat that travels to the brain or lungs, or is trapped in blood vessels.
Minimal risks are associated with Power Assisted Liposuction (PAL) including uneven, wrinkled, and/or loose skin that can tighten over time. In addition, there may be moderate changes in the pigmentation of treated area.
While uncommon, the continuous ultrasound energy of Ultrasonic Assisted Liposuction (UAL) may cause the patient's skin to burn.
As with UAL, Laser Liposuction can cause burning since it uses thermal energy. There are risks of blistering, infection and scarring as well. Skin irregularities, such as dimpling and wavy skin texture, and light or dark skin discoloration may also occur. The discoloration should fade with time, but may require additional treatment.
Ideal patients for Liposuction are healthy, smoke-free individuals, who have no serious medical conditions or life-threatening illness that may prevent the healing process. They also have a positive outlook on life. In order to be good candidates, patients must suffer from excess fat deposits and have a realistic vision for their body contouring.
Recovery
How long does the recovery period after liposuction last?
The Liposuction Miami recovery period ranges from a few days to several weeks. The initial stages can be especially uncomfortable due to possible swelling, numbness, burning and soreness, which makes taking care of the treated areas very important. To expedite recovery, reduce swelling and help shape the body, the doctor may recommend compression garments or wraps for several weeks or months after surgery. One to two days after surgery, the doctor will replace the bandages. Five to ten days after surgery, any sutures and drains will be removed. Eight to ten days after surgery, any stitches that did not dissolve will be removed. Compression garments may be removed a few weeks or months later. Doctors may prescribe antibiotics to avoid infection at the incision sites. Final results are visible once the swelling subsides.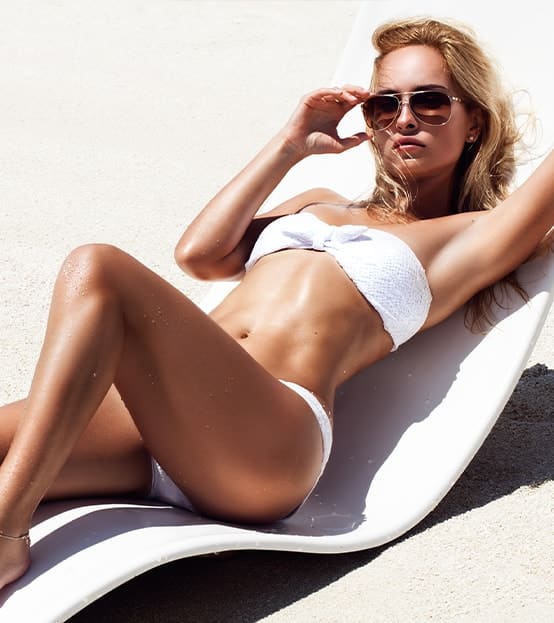 Cost
What does liposuction cost?
While the cost of Liposuction may be an important factor, the quality should remain more important. Be careful not to let cheap lipo prices supersede good surgery. Our cost for Liposuction surgery includes surgical fees, operating room costs and anesthesia fees. Non-surgical fees include pre-operative exams, post operative garments and treatments like massages.
In addition to non-surgical fees, other variables that affect cost include:
time and effort required by the surgeon
the size of the patient
number of areas being treated
the experience of the surgeon
geographic location
The national average Liposuction Miami cost ranges from $2,000 to $8,000 per area. It can also be offered as a package when combined with other surgical procedures, resulting in a lower cost for the plastic surgery. At Elite plastic surgery, lipo prices begin at $3,000 and financing is available.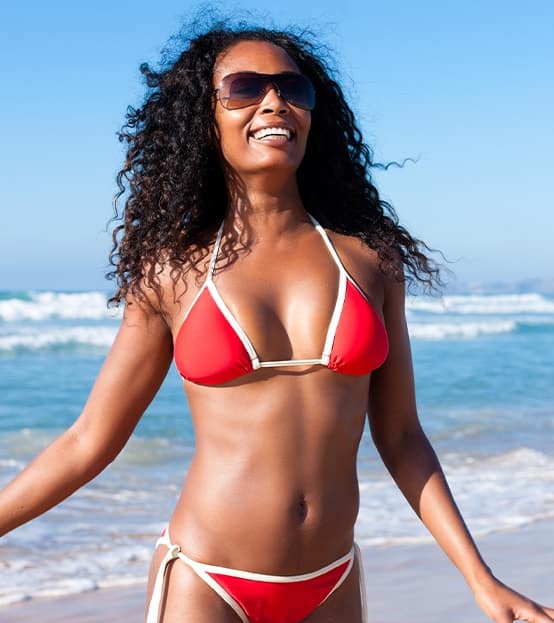 Frequently Asked Questions
How much weight do I need to lose before getting Liposuction?

Before getting any type of Liposuction surgery, your weight should be ideally 20lbs heavier than your ideal or desired weight. In addition to being close to your ideal weight, you should want to address pockets of stubborn, excess fat that is resistant to diet and exercise. Liposuction is not designed to be a form of weight loss, although it can help you to reach your goals. Dr. Salama can address any concerns you may have and suggest the best course of action based on your needs and goals.

Can you have Liposuction surgery before pregnancy?

Yes, the Liposuction will not affect your pregnancy. However, results will be affected by the weight gained during pregnancy. If you're not going to enjoy the results of your Liposuction procedure because you have plans for pregnancy soon, you may want to consider having the surgery after giving birth.

Which areas of the body can be treated by Liposuction?

Women most frequently have Liposuction on the abdomen, flanks, back, hips, arms, thighs and knees. Men typically treat their chin, breasts, abdomen and flanks. Technically, almost any area of the body can be addressed, so if your concerns affect different regions of the body than those listed here, we can discuss your options and develop a customized treatment plan to best achieve your desired outcome. If another modality may provide a better experience or result, Dr. Salama may recommend that approach.

How does a tummy tuck differ from abdominal Liposuction?

A tummy tuck (abdominoplasty) involves the removal of skin and fat of the lower abdomen. It also accomplishes tightening of the abdominal muscles. Liposuction does not remove skin or help with tightening of the muscles. It's not unusual for patients to have Liposuction along with a tummy tuck, and this combination procedure is a popular choice for individuals who have lost a significant amount of weight or who have trouble restoring their pre-pregnancy figure after giving birth. If you have excess skin and fat, a tummy tuck may be a better choice for you. If you have good skin quality but pockets of unwanted fat, Liposuction often can provide the desired body contouring.

Can Liposuction be used to treat obesity?

No, Liposuction surgery should not be used as cure for obesity. Even as a last resort, it is not recommended for people unable to lose weight through diet and exercise.

Does Liposuction surgery get rid of cellulite?

Cellulite lies under the skin's surface. Since Liposuction removes fat deposits in deeper skin layers, it may reduce cellulite, but will not eliminate it.

Which method of Liposuction is best for me?

Your plastic surgeon will recommend the best method of Liposuction for you based on your unique physical factors, taking into consideration the areas of the body to be treated and any additional surgical procedures being done.

How is Liposuction involved in a fat transfer?

The fat removed in Liposuction surgery is harvested and purified so it can be grafted successfully to another area of the body that is being augmented or enhanced, such as the buttocks for a Brazilian Butt Lift. By using a patient's own natural tissue, the risk of an allergic reaction is virtually eliminated, and it's often possible to achieve more natural-looking aesthetic enhancement compared with synthetic substances.

No matter how much I exercise, my muscles still lack definition. Does Liposuction provide more muscle definition?

Assuming your muscle tone is normal, Liposuction can be used to further redefine your muscles. To treat stubborn fat that is not easily removed with diet or exercise, we offer the Vaserlipo® procedure. It is a technique that uses Ultrasonic Assisted Liposuction (UAL) to give high definition to the treated areas. In the appropriate patient, this technique can define the musculature anywhere in the body.

What types of Liposuction methods are used at Elite Plastic Surgery?

While there are several different Liposuction techniques nowadays, it's really a matter of preference. Dr. Moises Salama employs Power Assisted Liposuction (PAL) for all Liposuction surgeries. He also uses Vaser lipo, or Ultrasonic Assisted Liposuction (UAL), to get high definition results. His extensive training with all forms helps him determine the best method for your needs and goals, rather than using a "one-size-fits-all" approach for all patients.

Does Liposuction require post-surgery massages?

Massage treatments are vital in achieving natural looking results and should commence as soon as possible, typically a day or two following Liposuction surgery.

Are there any life-threatening risks from Liposuction?

Like any other surgical procedure, Liposuction involves risks, but major complications are a rare occurrence. The most commonly seen issues are asymmetries or minor irregularities. Dr. Salama will take time to discuss the important complications with you. At Elite Plastic Surgery, we prioritize each patient's safety and results. We make every effort to provide exceptional care from start-to-finish, and we want you to feel confident and comfortable while in our hands.

What happens if I gain weight?

We encourage patients to pursue a healthy lifestyle to help maintain their weight following surgery. If you do gain weight, the benefits of the treatment may be affected. Once a fat cell is removed from the body it cannot spontaneously regenerate. However, fat cells can grow larger. If you gain weight, fat cells may become larger and move into the treated area--or they may not. The results can be unpredictable. That said, any changes in body contouring can be addressed with additional treatment if desired.

How does Lipo 360 differ from regular Liposuction?

The process of Lipo 360 is no different from regular Liposuction. Lipo 360 just refers to a specific group of areas where the Liposuction is done: the upper and lower abdomen, the flanks, and the upper and lower back.
If you are interested in learning more about Liposuction or in scheduling an appointment, please contact us today for more information.