Achieving significant weight loss due to traditional methods like dieting and exercise or modern techniques like Bariatric surgery is an impressive achievement. However, some of the effects of this experience may not be as desirable as reduced fat. Excess skin is a common concern for patients who have lost a massive amount of weight, and sagging skin on the thighs can be a cause of self-consciousness. To help patients feel more comfortable in their new, healthier bodies and enjoy the fruits of their hard work, our practice offers Thigh Lift surgery to remove excess skin and create a firmer and more toned appearance on the upper legs. This surgery can also be combined with other excess skin removal procedures such as the Tummy Tuck.
What concerns can a Thigh Lift address?
Also known as Thighplasty, Thigh Lift surgery is designed to address excess skin on the upper legs. Excess skin can develop on the outer thighs, inner thighs, or both areas. Dr. Moises Salama, our board certified plastic surgeon, utilizes the latest techniques to achieve an aesthetically appealing outcome and help patients pursue their cosmetic goals.
Who might want to consider a Thigh Lift?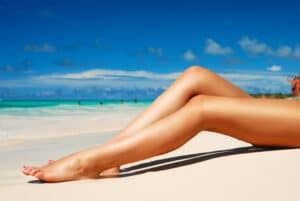 If your thighs have excess, loose skin after losing a substantial amount of weight or due to the normal process of aging, a Thigh Lift Miami may help you attain a firmer look and feel in this area. Many weight loss patients hesitate to wear shorts, skirts, and other leg-revealing types of clothing because they are self-conscious about the appearance of their thighs. Thighplasty can help address these concerns and give people the confidence to wear whatever they like.
It's important for patients considering this procedure to be in good general health to be an ideal candidate for Thigh Lift surgery. Additionally, if you're a smoker, you will need to stop using tobacco products for a period of time before and after surgery. You should also have a good understanding of what this technique can accomplish, and Dr. Salama will help you determine if this method is the optimal approach for your desired outcome and anatomic needs.
What will the incisions look like?
The incisions can be placed in a few different positions, depending on your needs and goals. The length of the incisions will also vary per your individual characteristics and desired outcome. Dr. Salama will review what to expect during your initial consultation, and you will have the opportunity to ask questions and voice any concerns during this time. You are also welcome to reach out to our skilled medical team at any time for more information. We're here to help you feel confident and comfortable about your procedure.
What should I expect during the procedure?
Thigh Lift surgery can be completed one of two ways, in most cases. The first is a medial Thigh Lift and the second is a lateral Thigh Lift. Depending on your cosmetic goals, these two techniques can be combined.
Medial Thigh Lift: In this technique, an incision is made in the groin area, and the excess skin on the inner thigh area is lifted up through this opening and removed. The incision may be extended down the leg for more comprehensive reduction of the excess skin.
Lateral Thigh Lift: Designed to address the skin on the outside of the thighs, a lateral Thigh Lift uses an incision that begins near the groin, extends around the hip, possibly continuing around and under the buttocks. While the incisions will be more visible with this technique, it's Dr. Salama's goal to make these marks as inconspicuous as possible.
In addition to removing excess, sagging skin on the thighs, liposuction can also be incorporated to address any residual pockets of fatty tissue that may remain. While you should be close to or at your goal weight before undergoing surgery, it's not uncommon for patients to have some stubborn fatty tissue remaining in this area. Dr. Salama can remove this unwanted tissue along with the skin in the same operation.
How long does recovery take?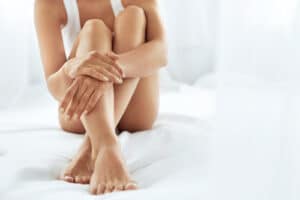 Everyone heals at a unique rate, and your recovery experience will be unique to you. That said, you can expect to take at least a week or two off from work and your regular routine. Medication will be prescribed to manage your pain. Most patients report minimal discomfort. Swelling and bruising in the affected area is normal and these symptoms should subside with time. Dr. Salama will provide post-operative instructions to help guide you through the recovery and make this time as pleasant as possible. You should be able to see smoother thighs immediately after the procedure, although swelling can take up to a year to fully subside. Most patients, however, do not notice this residual inflammation after a couple of months.
How much does a Thigh Lift cost?
The cost of Thigh Lift surgery will range from $5,500 to $6,500 depending on your individual treatment plan. We consider it essential for patients to be as well-informed as possible before making a decision, and we will provide a full breakdown of the fees associated with your procedure during your initial consultation. Some surgeons opt to only provide their price; however, this is not the only cost of treatment. Expenses will involve the surgeon's fee, hospital fee, and anesthesiologist's fee. If you receive a quote from another office, be sure to ask what it includes. If you need help paying for your treatment, we offer an array of financing options that can make this a more affordable surgery.
Our skilled and friendly medical team can answer your questions and provide additional information. Reach out to us today to schedule a consultation.