Mini Abdominoplasty – Incision Pattern Miami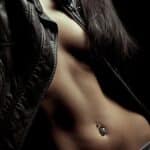 Lax muscle tissue and fatty deposits in the abdominal area can contribute to the appearance of a flabby stomach. If exercise and diet aren't reducing the flab, it may be time to consider a mini abdominoplasty. This procedure can give your lower abdomen a fit, contoured look.
For your mini abdominoplasty, your plastic surgeon will create a small incision above the pubis area. Located between the belly button and the public hairline, this horizontal incision does not reach either of the hips. This is in contrast to a full abdominoplasty, in which the incision is longer and reaches both hips.
Once the incision is created, your plastic surgeon will be able to recontour the area. For more information regarding the mini abdominoplasty procedure, set up an appointment by contacting our office. Dr. Moises Salama, a board-certified plastic surgeon serving the Miami area, will evaluate the abdominal area and recommend the best course of action.