Are you too Skinny for a BBL?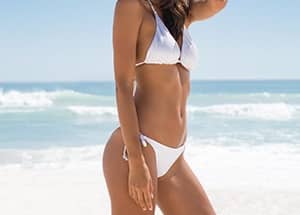 Everyone wants to have the perfect booty and thin patients are no exception. The general consensus among thin women who are interested in buttock augmentation is that they're too skinny for a Brazilian butt lift and that their only option is buttock implants. A lot of women work hard to stay in shape to be in peak physical condition. Others may have trouble gaining weight. Regardless of their circumstance, these women usually shy away from butt augmentation because they think getting a BBL is an impossibility for them. Well, at Elite Plastic Surgery Dr. Salama is here to prove them wrong.
Dr. Salama has performed countless skinny BBL procedures with incredible results. Unlike butt implants, a BBL is the transfer of a person's own fat to the buttocks. Fat is removed via liposuction from several areas of the body, cleaned and then injected into the buttocks. Since a person's own fat is used, there lies the common misconception among thin patients… that they don't have enough fat to transfer. However, they fail to realize that liposuction can be done in so many areas including the upper and lower abdomen, the upper and lower back, the flanks, arms, inner thighs, chin, and more. Dr. Salama is an expert at finding the fat needed for a skinny BBL. So, if you feel a BBL is unattainable because of your genetics or your physical regimen, we highly recommend having a consult with Dr. Salama.
Let Dr. Salama evaluate your unique circumstance. Based on your physique and goals, Dr. Salama will provide you with a proper recommendation and expectations. Don't let preconceived notions stand in your way. Contact us to get the plump, perky booty you've always wanted!