Brazilian Butt Lift Recovery – Haute Living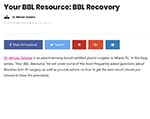 If you're considering the Brazilian butt lift procedure, then Dr. Salama's latest Haute Living blog post is just the reading material you need to prepare yourself for your BBL recovery. His BBL Recovery blog post covers everything from what to expect after Brazilian butt lift surgery to post-operative instructions.
As a Haute Living Beauty Expert, Dr. Salama addresses every aspect of the Brazilian butt lift in his Haute Living blog series: Your BBL Resource. Be sure to stay connected as Dr. Salama will discuss who's a good candidate for BBL surgery in his next blog post of the series.