What Questions Should I Ask During the Plastic Surgery Consultation?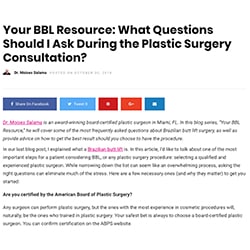 Are you ready for your plastic surgery consultation? Dr. Salama understands the importance of being informed on the Brazilian butt lift and how stressful it can be when your not sure of what to even ask your plastic surgeon concerning the procedure.
As a Haute Living Beauty Expert, he's made it easier for you to be prepared for your consult by focusing his latest blog post on what questions to ask your plastic surgeon. For the latest installment of Dr. Salama's Haute Living blog series: Your BBL Resource, Dr. Salama has developed an initial list of important questions to ask during your plastic surgery consultation with explanations on why they matter. Read his blog post: What Questions Should I Ask During The Plastic Surgery Consultation? on the Haute Living website.
And, stay tuned for the next blog in the series in which Dr. Salama will discuss the Brazilian Butt Lift recovery process.