Augmentation Lift – Miami Breast Procedures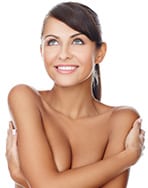 Want to make your breasts look more attractive? One method of enhancing the breasts is with an augmentation lift, a combination of a breast augmentation and a breast lift.
A breast augmentation is done to add volume and size to the breasts. A breast lift, on the other hand, is performed in order to refine the shape of the breasts and make them appear perkier, reversing the effects of gravity over time. It can also raise the areolae and nipples. When you combine them for an augmentation lift, you get the beneficial results of both.
An augmentation lift may be just what's missing from your life. To find out more, speak with Dr. Moises Salama, a board-certified Miami plastic surgeon. Arrange a consultation by contacting our office today.