Breast Surgery: The Breasts You've Always Wanted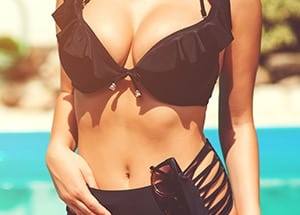 A symbol of womanhood, your breasts should make you feel beautiful. However, that is not always the case. It is not unusual for women to suffer, especially in silence, from common breast issues such as asymmetry, droopiness, and overly-large or overly-small breasts. This dissatisfaction with their breasts can have a tremendous impact on the confidence and self-esteem of these women. This is why Dr. Salama offers a variety of breast surgery procedures that can remedy most all conditions.
Breast Surgery Solutions
There are various factors and influences that can affect the appearance of your breasts including genetics, aging, pregnancy and breastfeeding. There are also specific procedures to address the different kinds of breast-related issues.
Breast Augmentation improves the shape, size, symmetry and proportion of breasts. It can be a subtle or dramatic change. The breast implants play a big role in the outcome as each type provides a different result. The incision technique and implant placement also impact the final outcome. Dr. Salama likes to use the peri-areolar incision (around the nipple) and the inframammary incision (in the breast fold) and typically places the implant below the muscle as it provides a more natural look while minimizing the risks of rippling, capsular contracture and bottoming out.
A Breast Lift addresses droop or ptosis. It places the breasts at a higher position and restores firmness for a more youthful appearance. There are three main techniques used for this procedure of which Dr. Salama prefers the anchor lift or inferior pedicle lift. It is the most commonly used technique because of its versatility in the removal of excess skin.
A Breast Lift with Implants, which is breast augmentation combined with breast lift surgery, restores or provides fullness and volume while correcting asymmetry and elevating the breasts to a higher position on the chest.
Breast Reduction helps alleviate any physical and emotional burdens caused by overly large breasts. The procedure reduces your breast size making them more manageable. Like with the lift, Dr. Salama uses the anchor incision for best results with a breast reduction.
Feel great in and out of your clothes!
No matter what your breast concern is, Elite Plastic Surgery has the solution for you with all our breast enhancement options. Let Dr. Salama provide you with a customized plan based on your unique needs and goals. Schedule a consult to get your ideal breasts.