Brazilian Butt Lift Vs Butt Implants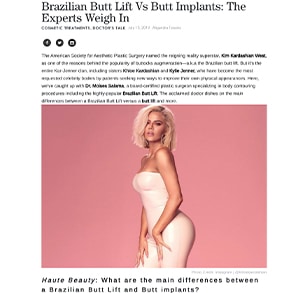 As a board certified plastic surgeon, Dr. Salama was asked to weigh in on the Brazilian Butt Lift vs Butt Implants debate in a recent article by Haute Living on cosmetic treatments. Dr. Salama talks about the difference between the two procedures and who's an ideal candidate for each. In addition, Dr. Salama details the recovery process for both surgeries.
To get more information on butt augmentation procedures or to schedule a consult with Dr. Salama, contact our friendly professionals.