Benefits of High-Definition VASERLipo Etching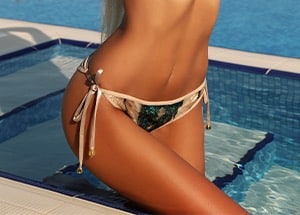 Want a more sculpted, defined and athletic appearance? Maybe you're looking to achieve six-pack abs or a toned chest or arms. High-Definition VASERlipo Etching may be the answer you're looking for. High-Def VASERlipo Etching is a breakthrough technique that offers a more pronounced and dramatic outcome than with traditional liposuction. In virtually any region, High-Def VASERlipo can be used to "etch" or "sculpt" the body.
What is VASER Liposuction? 
VASER stands for Vibration Amplification of Sound Energy at Resonance. Unlike traditional liposuction, VASER utilizes ultrasound technology to dissolve excess fat cells through a process called cavitation instead of separating or breaking up the fat cells before they're removed via vacuum suction. VASER can be used to remove stubborn fat in the superficial and subdermal layers contouring and sculpting the treatment areas. It is not a weight-loss procedure. It's meant to define the body achieving better results because it minimizes the risk of contour irregularities and simultaneously tightens the skin by accelerating collagen synthesis in the dermis.
Top 5 Benefits of High-Definition VASER Liposuction & Etching:  
Gentler than Traditional Liposuction
VASER Liposuction is gentler than traditional liposuction because of its technology allowing patients to experience less bruising and pain, and a shorter recovery.
Sculpts the Treatment Area while Extracting Fat
One of the greatest benefits of High-Definteion VASER Liposuction is that as the fat is being extracted, your body is being redefined and sculpted.
Smoother Results
Since fat cells are dissolved with VASER Liposuction rather than separated or broken up before removal, a smoother appearance can be achieved especially after following a good post-op regimen including lymphatic massages and compression garments.
Promotes Skin Tightening
When stubborn fat cells are melted with VASER's ultrasound technology, the skin tissue is heated contracting the skin's collagen fibers causing skin tightening in the treated areas.
Perfect for Both Men & Women 
High-Definition VASERlipo Etching can be used to treat both men and women targeting different areas more aggressively, depending on the patient's goals.
Ready to get Sculpted?
Dr. Moises Salama has been at the forefront of High-Def VASERlipo Etching with extensive experience performing thousands of procedures with amazing results thanks to his extremely precise technique. Schedule a consult to see how he can transform your physique.