Who is an ideal candidate for Breast Augmentation?
This procedure can be tailored to suit your anatomic needs and expressed cosmetic goals. As a result, a wide range of women can make excellent candidates. Breast Augmentation may be the right choice if you:
Are dissatisfied with your current breast size
Suffer from asymmetrical breasts
Would like to restore breast volume after weight loss or pregnancy
Incision Options What are the incision options?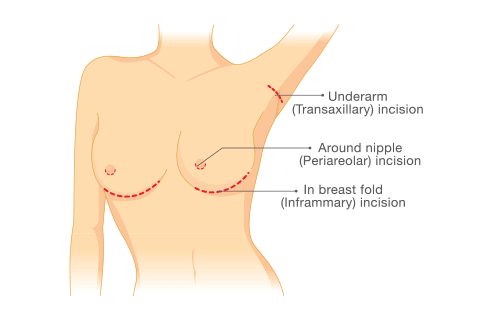 In addition to other factors, the breast implant type will help to determine the ideal location for the incision. The most common techniques to place the implants include:
Transaxillary (through an incision in the underarm)
Periareolar (through an incision created in the areola—the pigmented area around the nipple)
Inframammary (through an incision created on the underside of the breast where the skin meets the body)
Each location offers unique benefits and considerations. The transaxillary approach is only suitable for saline implants, as they can be filled after placement. Dr. Salama most commonly utilizes the inframammary fold, as this technique offers excellent results regardless of implant type, and the scar is typically well-concealed by the natural fold of the breast. The optimal method for you will be determined during your initial consultation.