Breast implants come in a broad array of types, including different fillings, textures, and shapes. Implants can be either silicone or saline filled. Saline is a saltwater solution that can be harmlessly absorbed by the body in the unlikely event of a rupture. Saline implants can provide excellent contour; however, they may not be as natural-looking or feeling as silicone implants, particularly for slender patients with thin skin. Saline implants are round in shape, and they can come in many projections to achieve your desired fullness.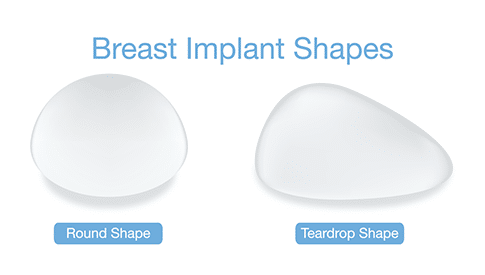 Anatomical implants are teardrop-shaped to better mimic the natural curve of a woman's breast. Silicone implants are broadly considered to look and feel more natural than saline implants, although each woman's experience may vary.
Both saline and silicone breast implants are available in smooth and textured versions. Textured implants are designed to stay securely in their position (particularly important for anatomical implants), while smooth implants have a lower likelihood of rippling. Dr. Salama can discuss the ideal option for you during your initial consultation. Regarding Breast Augmentation, you must be 18 years of age or older for saline implants, and 22 years of age or older for silicone implants.
At our practice, Dr. Salama utilizes Allergan breast implants for their leading reputation, innovative designs, and high-quality materials. Our selection includes Allergan Natrelle INSPIRA®, the Natrelle® 410 (anatomical), and the Natrelle® Classic.