Mini Tummy Tuck Procedure – Miami Incision Closure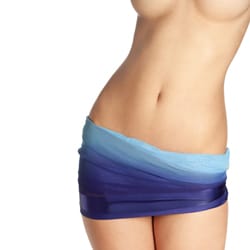 A mini tummy tuck procedure can create a slimmer, tighter lower midsection for those patients who do not need the full abdominoplasty surgery.
Once the plastic surgeon has tightened the lax, sagging muscle tissue of the abdomen, suctioned the excess stubborn fat, and removed the drooping skin tissue, the contouring aspect of the mini tummy tuck procedure will be complete.
Following this, the skin in the region is redraped over the lower abdomen carefully to fit the new contours. It is pulled taut, and then medical stitches are used to seal the incision.
Dr. Moises Salama, a board-certified Miami plastic surgeon, has a great deal of experience with the mini tummy tuck procedure. Arrange an informative consultation with Dr. Salama regarding this surgical procedure – contact us today.