Tummy Tuck Recovery – Miami Abdominoplasty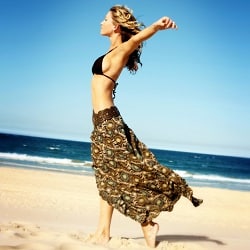 A tummy tuck can give a patient a fitter, slimmer abdomen. Part of the tummy tuck recovery process is supporting the newly recontoured abdominal tissues.
Because the tummy tuck involves tightening muscles with sutures, removing excess skin, and taking out excess fatty tissue, the composition of the area may be quite different following the surgery. To help the remaining tissues heal better in their new composition, the patient may need to wear a surgical support garment around the recontoured area during tummy tuck recovery. This garment can also minimize the swelling in the remaining tissues.
Board-certified plastic surgeon Dr. Moises Salama can instruct patients about the right ways to treat your body during recovery for a tummy tuck. To find out more from Dr. Salama, set up an appointment by contacting our office.