BBL Recovery Tips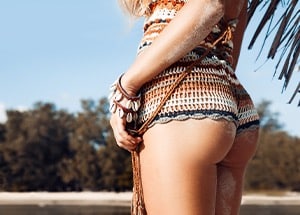 At Elite Plastic Surgery, we want to set you up for success. We know how important final results are to you. That's why we are on your BBL journey with you every step of the way, providing you with detailed pre and post op instructions to ensure you have a smooth recovery and optimal results. Because the more you prepare and and properly care for your self throughout your plastic surgery experience, the easier your recovery will be.
With this in mind, there are several steps you can follow to ensure a more seamless recovery. Below are some of our key tips for a better BBL recovery.
Key BBL Recovery Tips
Have patience. Recovering from plastic surgery is not an easy feat.
Abstain from smoking and drinking for a month before and after surgery as it impedes the healing process.
Plan to be off work for about two weeks to recover and rest.
Avoid putting pressure on your buttocks. Do not sit on your butt or sleep on your back for at least 6 weeks, following your surgeon's instructions on how to do that.
Keep your incisions clean and dry to prevent the risk of infection.
To help with post-op fluid retention and swelling, a compression garment (faja) should be worn for at least 8 weeks after surgery.
Take your medications (pain killers and antibiotics) as directed to subdue any pain and avoid infection.
Stay hydrated with plenty of water and consume a healthy diet.
Fight the effects of drying skin after surgery by moisturizing your skin regularly to keep it hydrated.
Only wear loose and comfortable fitting bottoms made of breathable fabrics. No jeans.
Abstain from using herbal supplements and blood thinners since they can increase the risk of bruising.
Avoid hot tubs, pools, baths and saunas for at least 4 weeks to prevent infection.
Stretch your legs regularly and walk at least 10 minutes a day to prevent blood clots.
Make sure to keep your follow-up appointments.
Following these steps will help your recovery tremendously and ensure you get the best results possible from your surgery.
If you're interested in the Brazilian Butt Lift procedure and want to learn more. Our friendly staff is here to answer and questions. Contact us today!