Breast Implant Options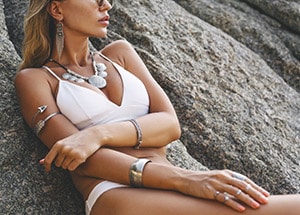 When it comes to breast augmentation, patients typically have very specific goals in mind. Whether it's a more natural appearance or fuller, rounder contours or somewhere in between, there are various breast implant options available to suit your needs. During your consult, your plastic surgeon should discuss your goals and breast implant types, shapes and sizes, making the appropriate recommendation based on what you want and what's achievable for your anatomy.
Saline or Silicone
Perhaps one of the biggest decisions to make regarding breast augmentation is which type of implant to choose, Saline or Silicone.
Saline breast implants have a silicone shell and are filled with sterile saltwater solution, also known as saline. Saline implants were all the rage in the 90's and 2000's and have been around for more than 30 years. They have a long-standing history of safety. Although unlikely, if the Saline implant should rupture or tear, the saline solution is harmlessly absorbed by the body. Saline implants can be smooth or textured and come in a large variety of sizes. They are a good choice for patients who suffer from slight droopiness since the implants give breasts a perkier and firmer look and feel. A notable drawback is that saline implants can feel less natural than silicone implants and tend to ripple more. The FDA has approved saline implants for patients who are 18 and older.
Silicone implants are the most popular type of implants at our practice. They are composed of a silicone shell filled with a cohesive silicone gel interior. Unlike saline implants, silicone implants do not leak into the body if they rupture or tear due to the cohesive gel inside them. Many patients love them because they offer a very natural looking appearance and have a natural feeling as well. Silicone implants come in a variety of shapes, textures and sizes and are an excellent choice for patients who have minimal fat and existing breast tissue. They are FDA approved for patients that are 22 or older.
Gummy Bear Implants
Gummy bear implants are a type of silicone implant that is anatomically shaped. They are strong and durable and their texture and appearance mimic that of natural breasts. Many patients opt for this type silicone implant when having breast augmentation. As with all silicone implants, they come in a variety of shapes and sizes and are FDA approved for patients 22 and older.
Breast Implant Profiles
Another factor to consider during breast augmentation is the breast implant profile. The profile provides the type of projection you want your breasts to have. There are anatomically shaped profiles, which are in the form of a sloping teardrop, and round profiles. The former offers a more natural look.
Choosing the Right Breast Implant Size
Implant size is a very personal decision. Some patients want to increase their breast size for better proportion, while others desire a more dramatic outcome. Whatever your goals are, your plastic surgeon should review all your options with you and guide you in selecting the proper size and type for the best outcome based on your breast augmentation goals.
Want a breast augmentation evaluation? Contact us for a proper recommendation.