5 Benefits of Breast Reduction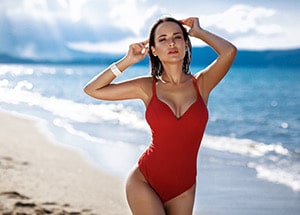 Breast surgery is typically associated with a breast augmentation, but did you know that breast reduction is also a widely popular procedure? This procedure is sought after by women who suffer the downsides of having overly large breasts. These women experience pain and discomfort as their breasts interfere with their everyday life.
Many of my patients, after undergoing breast reduction surgery, say they have a better quality of life and wonder why they didn't rectify the issue earlier.  They are so grateful and would recommend the procedure to anyone who is unhappy due to their large breast size.
So, is it time for a breast reduction? Here are 5 benefits to consider if breast reduction surgery is the answer for you.
1 – It can alleviate back, neck and shoulder pain. As women with larger breasts age, the weight of their breasts can add stress to the back, neck and shoulders. This is not something that may be noticeable right away, but that amplifies with time. Pain is one of the main reason's patients come in for a breast reduction. After surgery, they feel like a brand-new person.
2 – Better posture. Carrying a heavy weight on your chest encourages slouching, especially if you have D cup size breasts and above. In addition to pain, the weight can affect the spine also making you want to lean forward. With a breast reduction, patients can expect better posture as they are able to stand without the discomfort of a heavy load on their chest.
3 – Better fitness. Women with large breasts often complain about how difficult it is to stay active. Their large breasts make fitness a bigger task. They experience pain, exhaustion, and limited motion. Consider that during exercise, they have more to carry, added resistance and a greater struggle at balance. While you would think this is a positive for building strength, the only area that benefits from this are the back muscles and nothing else. It also does not help with cardio. Many patients express being able to live a more active lifestyle after their breast reduction.
4 – Easier shopping. Shopping can be incredibly frustrating for women with large breasts. Clothes that fit their body, do not always fit their breasts. Although this may seem like not such a big deal, it is. Imagine having to wear clothes that don't look right because you have to go up in sizes for them to fit your breasts or simply not being able to wear something you like because it doesn't fit properly. This can lead to self-esteem issues. It can also be costly if you have to tailor your clothing. My patients are extremely satisfied that after surgery, they don't feel limited with their wardrobe anymore.
5 – Greater confidence. Having large breasts can bring about unwanted attention and make women feel uncomfortable. Women want to be seen as more than just a body part and this can lead to self-esteem issues. Add to this, not being able to work out properly, always suffering from pain issues and bad posture, and dealing with unflattering clothes, self-confidence can be very low. Reason enough to undergo a breast reduction.
Schedule your consult today for a breast reduction evaluation.