Breast Implants – Saline Vs. Silicone Miami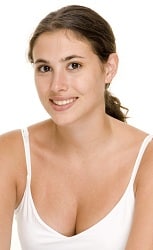 If you're interested in breast augmentation surgery, you'll have to make the decision between saline and silicone breast implants. Each type of implant comes with its own positive and negative qualities.
Saline implants can be filled after being inserted empty into the breast pocket. Silicone implants, on the other hand, must be pre-filled, which can limit incision options.
Though silicone breast implants do come along with more potential complications, they offer a generally more natural feel and appearance.
To help decide whether you want silicone or saline breast implants, visit Dr. Moises Salama, a board-certified plastic surgeon serving the Miami area. Dr. Salama will be happy to conduct an evaluation and to discuss your aesthetic goals. Contact us today to arrange a consultation with Dr. Salama.