Benefits of a Breast Lift with Implants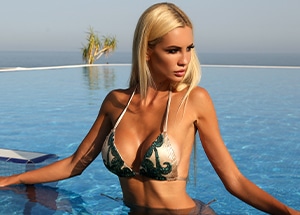 With time, it's natural for most women to experience a degree of volume loss and drooping in the breasts. This may be due to fluctuations in weight, pregnancy, breast feeding, or the aging process. But do not despair! Thanks to a variety of breast enhancing plastic surgery procedures, there are solutions to all kinds of breast concerns. When it comes to breast volume loss and droopiness, the proper procedure depends on the severity. Typically, a breast augmentation, breast lift or breast lift with implants (a combination of both) may be performed to correct the problem.
A subtle lift can sometimes be achieved with breast implants, but this depends on the implant size and shape. Normally, breast augmentation by itself cannot correct drooping that is moderate to substantial. While a breast lift may improve droopiness, it is only able to provide slight improvement to volume loss in the upper pole. Plus, mastopexy alone will not increase the overall size of breasts significantly. Thus, patients that need to address multiple breast issues may be the perfect candidates for a breast lift with implants.
There are many pros to having this combination procedure when it's performed by an experienced board-certified plastic surgeon. Here's a list of what a breast lift with implants can do for you.
Benefits of a Breast Lift with Implants:
Reduces breast ptosis (sagginess)
Increases breast volume and fullness
Improves breast contour
Firms the bust-line
Sets the breast at a more youthful position on the chest
Improves breast symmetry
Removes excess skin
Repositions/elevates the nipples
Reduces the size of the areolas
Helps achieve a more youthful and proportionate physique
Provides long-lasting results
If you're feeling distressed about your breast situation, stop and give us a call at Elite Plastic Surgery. The only doctor at our practice, Dr. Moises Salama is a board-certified plastic surgeon with more than 10 years of experience and countless beautiful breast results. He'll be able to give you an honest recommendation based on your unique body needs and your goals.