Vaserlipo Vs. Traditional Liposuction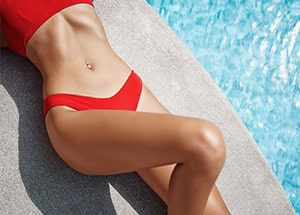 Patients come to Elite Plastic Surgery to enhance their body contour. A lot of the time, their main concern is torso fat. Usually, it's the same frustrating story. They can't get rid of the stubborn fat on their stomach, flanks and back no matter what diet and exercise is practiced.
For these patients, I recommend Liposuction. Liposuction is the perfect procedure for those suffering from excess fat, but no excess skin. A cannula is used to suck out the undesirable fat from the treatment areas. Practically any area of the body can be treated with liposuction. The most common treatment areas are the abdomen, waist, upper arms, chin, flanks, back, hips and buttocks.
As with every other procedure, I discuss goals with all my patients and explore their options with them. Depending on the desired result, patients can opt for Traditional Liposuction or Vaserlipo. The main difference between both being that the latter offers a more dramatic and defined result.
Traditional Liposuction
For patients that want a flat and natural look, I advise undergoing Traditional Liposuction. This type of liposuction helps slim, reshape and contour the problem areas, defining and enhancing the body's natural figure in a subtle way. I have patients come in every day for the 360 Lipo procedure, which is Traditional Liposuction of the upper and lower abdomen, the upper and lower back and the flanks. This is also a procedure that is part of the BBL surgery, as the removed fat is used to add volume to the buttocks by injecting it back into the buttocks.
Vaserlipo
High Defintion Vaserlipo Etching refines the treatment areas producing a more dramatic and pronounced result. Unlike Traditional Liposuction, Vaserlipo sculps the anatomical structures for a chiseled appearance that looks like you've worked out that body part your whole life. Results are simply stunning.
Regardless of the procedure choice, patients are encouraged to maintain healthy eating habits and exercise regularly for long lasting results.
Benefits of Liposuction
Reduced excess fat in the treatment locations
Enhanced body contour
Natural-looking results
Desired outcome can be achieved in a single procedure
Can be combined with other procedures
While liposuction may be the ideal procedure for you, I always make sure my patients understand that it is not a treatment for obesity nor a substitute for diet and exercise.
Let me help you determine the optimal approach for you. Reach out to us so we can discuss your cosmetic goals and get you feeling and looking better than ever.