What is a Mommy Makeover?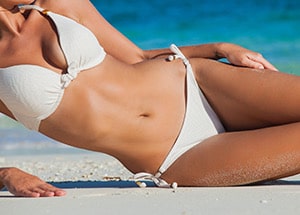 What is a mommy makeover? I get this question quite often. After childbirth, many mothers are unhappy with the changes their bodies experience. Moms often suffer from saggy breasts, excess skin and fat of the abdomen and stretched out abdominal muscles. In addition, they find it difficult to return to their original figure no matter how much they diet or exercise. A mommy makeover can be the perfect solution for those moms who are frustrated by their postpartum appearance and are not planning to have any more children. A combination of two plastic surgery procedures, the mommy makeover targets the most commonly affected areas by pregnancy, the breasts and abdomen. It is specifically designed to help mommies return to their pre-pregnancy shape.
Mommy Makeover Breast Procedures
The breast procedures included in the mommy makeover are breast augmentation, breast lift, breast lift with implants and breast reduction. Patients who have minimal droop, or ptosis, and would like to enlarge their breasts typically opt for breast augmentation to combine with their tummy tuck. A breast lift, also known as mastopexy, eliminates excess skin and elevates the breast tissue to a higher, more youthful position. It is the most frequently selected breast procedure for a mommy makeover. A breast lift with implants can add volume, fullness and shape. Conversely, a breast reduction is the best route for women who suffer from overly large, heavy breasts. In addition, the areola size can also be modified. Whatever your needs and goals may be, you will be recommended the procedure that best addresses your concerns.
Abdominal Procedures for a Mommy Makeover
Depending on the degree of your abdominal issues, you can combine your breast procedure with either liposuction or a tummy tuck. The latter being the most common choice for a mommy makeover due to excess skin. Liposuction reshapes the body through the removal of excess fat. Like liposuction, a tummy tuck removes excess fat, but it also removes excess skin and tightens the abdominal muscles. During your consult, you will be evaluated to see which of these treatments is the proper one for you.
Mommy Makeover Results
A mommy makeover gives women the ability to drastically improve their appearance in a single day, boosting their self-confidence and self-esteem. Results are long-lasting by maintaining a healthy diet and exercise after surgery.
Contact us to see if you're an ideal candidate for a Mommy Makeover. A proper evaluation will combine the right techniques to help you achieve your goals.