Scarless Tummy Tuck – Miami Endoscopic Abdominoplasty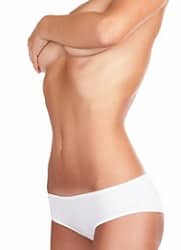 If the aging process or childbirth has caused your abdominal muscles to become loose and spread apart, you may be interested in a scarless tummy tuck. This procedure tightens the abs, giving you the toned, fit midsection you desire.
A scarless tummy tuck, also called an endoscopic tummy tuck, does actually feature some tiny scars. Its name comes from the fact that these scars are not nearly as large as the typical tummy tuck scar, which stretches from hipbone to hipbone. This makes it ideal for those patients who wish to avoid a noticeable scar.
Find out more about tummy tuck procedures such as the scarless tummy tuck from a visit with Dr. Moises Salama. Dr. Salama is a board-certified plastic surgeon with a great deal of tummy tuck experience and numerous satisfied patients, so contact us today to set up an initial consultation.