J-Plasma Benefits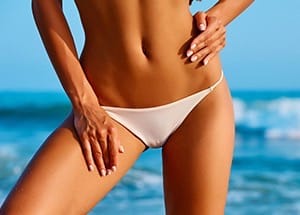 You can't stop the process of aging and the affects it has on our skin. Skin becomes lax and saggy as cells lose their integrity due to gravity. Add to that, the damages inflicted by sun exposure, genetics, pollutants, diet and more, and the process is accelerated. But don't lose hope!
Thanks to the wonderful advances in plastic surgery, you don't have succumb to that fate and live with saggy skin. At Elite Plastic Surgery, we offer a revolutionary skin tightening procedure that combines helium plasma and radiofrequency energy to promote cell regeneration and tighten the skin. That procedure is Renuvion powered by J-Plasma. J-Plasma is safe, precise and controlled allowing us to treat a variety of areas without causing trauma to the surrounding tissue.
How J-Plasma Works
A tiny incision is made for the J-Plasma device to be placed just under your dermis. Delivering controlled amounts of RF energy and helium gas, a heating and cooling effect respectively, J-Plasma safely contracts the skin in the treated area. Note, this procedure does not replace a lift when there is excessive skin present, such as moderate to severe loose skin.
What areas can be treated with J-Plasma
Arms
Abdomen
Waist
Thighs
Buttocks
Benefits of J-Plasma
Incisions are discreet
Minimal scarring
Natural, instant results
Less invasive than lift procedures
Effective on large and precise treatment areas
Skin tightening effects continue to progress with time
Skin Tightening at Elite Plastic Surgery
Ready for a consult? Dr. Moises Salama is here to determine if you're a candidate for J-Plasma. During your evaluation, you'll be advised on what to expect from the treatment and how he will achieve optimal results. What are you waiting for? You have nothing to lose, but saggy skin. Contact us today.