Benefits of a BBL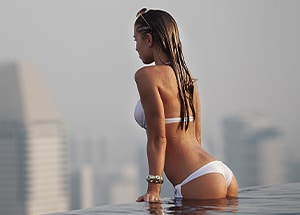 With many celebrities such as the Kardashians, Nikki Minaj, Cardi B and the like popularizing a plump, big booty, the Brazilian Butt Lift has become a widely coveted plastic surgery procedure. Their buttocks propelling them to a larger-than-life status, no pun intended. These superstars have changed the standard of beauty from a slim build to a curvaceous silhouette. And now, women all over the world are turning to plastic surgeons looking to emulate their proportions. For women who have felt self-conscious about and resigned to having a lack-luster behind, the BBL has become a celebrated answer.
But what makes the BBL so special and why are more and more people selecting this procedure over others at a higher rate than ever before?  Buttock enhancement through the use of butt implants is a more established procedure having been around longer with much success. Yet, the Brazilian Butt Lift has trumped its victorious phase like Dwayne Wade coming into basketball. The playing field has never been the same since.
As a plastic surgeon, I can tell you a greater number of the buttock enhanced community has turned to the Brazilian Butt Lift for its many benefits. Most notably, it is a safer, more natural option. Let's take a deeper dive into the top 5 benefits the BBL has to offer.
1. The Safer Buttock Enhancement Option
When done properly by a board-certified plastic surgeon, the BBL is the safest surgical buttock enhancement option available, even compared to buttock implants. As mentioned, traditionally butt augmentation surgery was solely done with implants. The BBL lets you lift, tighten and augment the rear-end without having to use them, simply by transferring your body fat. Unwanted fat is removed through liposuction from other areas of the body and injected into the buttocks, eliminating the risk of implant rejection or shifting and allowing for more symmetrical and customized results.
2. A Slimmer and Shapelier Appearance
Since Liposuction is part of the BBL procedure, other areas of the body are slimmed down to create an hourglass figure for a more beautiful silhouette, which helps to compliment the buttocks. At my practice, 360 Lipo is always included in our Brazilian Butt Lift surgery package. This is liposuction of the upper and lower abdomen, the upper and lower back, and the flanks. Additional areas can also be treated with liposuction when more fat is needed to reach your desired goals.
3. Better Body Proportions
The desire for a bigger booty is not always the case when it comes to a BBL. Some women are hoping to make their bodies more proportionate, whether it's to fit better into clothing or boost self-confidence. Depending on your body type (square shape, round shape, triangle shape, etc.), this treatment may also be used to correct and contour the figure for a more hourglass shape. The shape of the buttocks and hips can be enhanced to give your body better proportions as well.
4. Results that Look and Feel Natural
I believe one of the biggest reasons this treatment is so sought after is the fact that results look and feel natural. Since your own fat is used, a BBL will feel the same your other body tissue, which many patients prefer over hard-to-the-touch buttock implants. At the 6th month mark, your BBL results should be final, with the harvested fat settling in properly as if that's always been your original booty.
5. Long-Lasting Results
Brazilian Butt Lift results can last a long time with proper weight management. Because it is your own body fat that's used, expect your buttocks to assume the same rules for gaining and losing weight that apply to the rest of your body. This is why my patients are encouraged to care for their weight after undergoing BBL surgery for optimal, long-lasting results.
Enhance your beauty with a Brazilian Butt Lift by Dr. Salama
If you're interested in buttock enhancement or have questions on the BBL procedure, contact our office so that we can provide you with detailed information on how a Brazilian Butt Lift can work for you.