Dr. Salama's 1st Blog Post as a Haute Living Beauty Expert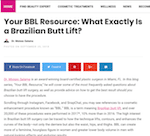 In our previous post, we shared how Dr. Salama partnered with Haute Living as a Beauty Expert for Haute Beauty. Read the first installment of Dr. Salama's Haute Living blog series: Your BBL Resource. The series covers frequently asked questions regarding BBL surgery and offers advice on how to get optimal results. Dr. Salama's first blog post discusses what exactly a Brazilian Butt Lift is.
Here is a snippet of what you can expect from the original article:
Brazilian butt lift is unique from what many call butt augmentation, a technique which typically uses implants to increase the size and improve the shape of the buttocks. In a Brazilian butt lift, the patient's excess fatty tissue is transferred from one area of the body to another to achieve the desired volume boost. During the contouring process, the plastic surgeon will perform liposuction to sculpt the patient's silhouette and to harvest the tissue needed to lift and enhance the lower body.