Younger-Looking Breasts with Mastopexy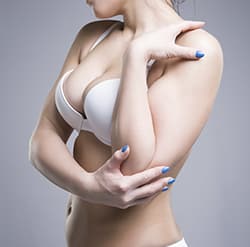 As a staple of femininity, the search for perfect breasts is more prevalent today than ever thanks to the incredible advances in plastic surgery. Nowadays, there is a plethora of breast enhancement procedures and techniques to address specific breast issues and goals for those on the quest.
In particular, a breast lift, or mastopexy, helps you achieve the appearance of younger-looking breasts by elevating them to a higher, more youthful position and restoring firmness and fullness.
There are many factors that can have an impact on the appearance of your breasts such as the aging process, pregnancy, breastfeeding, and genetic factors to name a few.
If you're unhappy with the present state of your breasts, the shape, fullness, and position of them, this procedure may help restore their beauty.
You may benefit from a breast lift if you suffer from:
Asymmetrical breasts
Droopy or saggy breasts
Flattened or deflated breasts
Enlarged or stretched areolas
Fallen nipple position
Breast Lift Techniques
Depending on your desired goal and needs, the proper technique must be chosen to achieve optimal results. The top methods used for a breast lift include:
Periareolar Lift / Donut Lift – is the most conservative option, only requiring an incision around the areola.
Vertical Lift / Lollipop Lift – in addition to the circumferential incision, it requires a vertical incision from the areola to the inframammary fold.
Inferior Pedicle Lift / Anchor Lift – provides the most skin removal, addressing significant ptosis. It requires an additional third incision to that of a vertical lift along the inframammary fold.
As the most common and effective of the three approaches, Dr. Salama often opts for the Anchor Lift technique.
Get Perkier Breasts
While you can't turn back time, let Elite Plastic Surgery reverse your dissatisfaction with the current appearance of your breasts. If you're not planning pregnancy and are at a stable, ideal weight, explore your breast lift options with Dr. Salama. You're customized treatment plan is waiting. Make an appointment today.