Every Woman Deserves Beautiful Breasts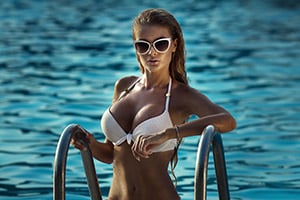 Every woman wants beautiful breasts. As such, breast enhancement is extremely popular in the United States with plastic surgery procedures ranging from breast augmentation to breast lift to breast reduction. These procedures address particular issues patients may be experiencing including drooping, asymmetrical, too small or too large breasts. And not only do they change your shape, they impact your self-esteem and confidence, helping you look and feel great in and out of your clothes.
Breast Augmentation
With breast implants, we're able to add cup size, volume, and cleavage to your breasts by choosing the right implant, placement, and technique that best suits your desired cosmetic goal. We offer saline and silicone implants, which come in smooth and textured versions; smooth to control rippling and textured to maintain placement/position. Our main incision techniques are periareolar (around the nipple) and inframammary (in the breast fold), with placement typically below the muscle for a more natural look and to minimize the risk of rippling, bottoming out and capsular contracture.
Breast Lift
With a breast lift or mastopexy, we're able to remove excess breast skin and elevate the position of the breasts, enhancing symmetry and overall appearance. Our preferred method for this procedure is an anchor lift or inferior pedicle lift, which allows us to remove the greatest amount of excess skin.
Breast Reduction
Overly large breasts can sometimes be a physical and/or emotional burden. Breast reduction helps reduce the size of your breasts to a more manageable level while keeping the results beautiful and feminine. Similar to a breast lift, this procedure uses the anchor technique for optimal results.
Achievable Breast Enhancement
At Elite Plastic Surgery, we can provide you with safe breast enhancement options at competitive prices. The breasts of your dreams are only a consult away. Let us develop a cosmetic surgery plan for you that works best with your figure and fits your desired goals. Contact us to learn more about our financing options and schedule an appointment.