Buttocks Augmentation Recovery – Miami Gluteal Implants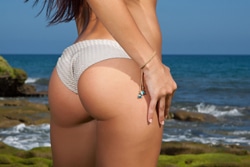 A derrière with volume and curves is seen as quite beautiful. If you don't feel that your buttocks is measuring up, gluteal implants may be perfect for you. One factor to consider during your planning phase is buttocks augmentation recovery.
During your buttocks augmentation recovery process, avoid any strain on the healing tissues. Do your best not to lie on your back for around two weeks. A good way to stay off of it at night is by altering your sleep position.
To find out more about post-operative care instructions for your buttocks augmentation recovery, contact our office and arrange an appointment. Board-certified plastic surgeon Dr. Moises Salama can explain the procedure in greater detail and help you plan out your healing period.