Gluteal Enhancement Recovery – Butt Implants Miami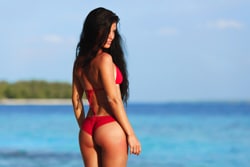 Do you have an interest in getting a curvier, rounder buttocks? If so, you'll love buttocks implants. These silicone implants can emphasize the buttocks and add permanent volume. With this procedure comes a period of gluteal enhancement recovery.
Stitches will be used to close your buttocks augmentation incisions at the end of the procedure. Your follow-up appointment to get your stitches removed will take place seven to ten days into gluteal enhancement recovery. At this point, your incisions will be looking and feeling better.
Dr. Moises Salama is a board-certified plastic surgeon with years of experience and numerous satisfied patients. Dr. Salama can tell you about the butt implants recovery period during a consultation. To arrange a consultation, contact us.